About the Book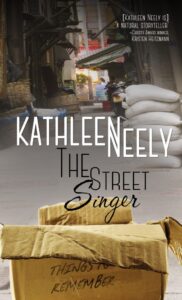 Book: The Street Singer
Author: Kathleen Neely
Genre: Christian Urban Fiction
Release date: 2019
Trisha Mills, a student in her final semester of law school, has fond memories of listening to the music of Adaline, a once-famous recording artist. Trisha learns that Adda is now a street singer in Asheville, North Carolina where she lives in a storage closet she rents for her equipment. Adda's sole means of support in her senior years comes from the donation box. Along with her meager possessions, Adda has a box labeled, "Things to Remember." Once Adda and Trisha become friends, Adda agrees to show Trisha the contents of the box, and reveals her journey from her beginnings as a sharecropper's daughter, her rise to fame, and her fall into poverty. Even while busy cleaning out the home of her deceased grandfather, preparing to sit for the bar exam, and planning her wedding, Trisha cannot overlook the injustices that Adda has experienced. Aided by attorney Rusty Bergstrom, Trisha convinces Adda to seek restitution.
About the Author
Kathleen Neely is a retired educator and school administrator. She served as a principal at elementary schools in Pennsylvania and South Carolina. When she's not writing, she's traveling to see her sons, daughter-in-law, and grandchildren scattered throughout the eastern states.
More from Kathleen
I'd like to introduce myself and then acquaint you with some people who live inside the pages of my book, The Street Singer. I am a retired educator having taught preschool, fourth grade, and then moving into administration as an elementary principal. When I retired, I pursued my desire to write. My first novel, The Least of These, won first place in a contest titled Fresh Voices. That honor renewed my confidence, and I went on to write my second book, The Street Singer. Although The Street Singer was not my first novel, it was the first to reach publication. That holds a special place in any author's heart. I'd love to introduce you to a few of my favorite people.
Trisha Mills is a law student, engaged to marry Grant Ramsey. Trisha's grandparents raised her from her early teens when her parents died. As an only child, she's left with no family following her grandparents' death. Trisha longs for a sense of heritage.
Adda Marsh is the daughter of Mississippi sharecroppers and has little education. What she does have is an amazing singing voice. Using the pseudonym Adaline, she experienced great success in the music industry in the era of Ella Fitzgerald. Her record company let her go when she aged and her voice faded. She never realized how the recording company duped her. Penniless, she sings on a street corner for donations.
Rusty Bergstrom is a lawyer who agrees to help Trisha in her quest to find justice for Adda. He brings both compassion and levity to a difficult situation. Rusty sprinkles lawyer jokes throughout the book, causing Trisha to laugh—an characteristic in short supply.
Grant Ramsey is a financial advisor working hard to build his clientele. His father is a state politician with aspirations for becoming governor. He learned to exercise caution in his words and actions so protect his father's image. That guarded nature tells him that Trisha's friendship with Adda is not a good idea.
There you have it. Trisha Mills' story with the makings for a multi-generational, diverse friendship, the challenges of two very different men vying for her affection, and a legal battle to right a wrong. Oh, I forgot to mention, all this while renovating her grandparents' old farm house. I hope you enjoy reading The Street Singer as much as I enjoyed writing it.
Author Interview
What is your favorite book that you have written (Published or Unpublished), and why?
I'd have to say Arms of Freedom because it's my first experience writing a dual timeline novel and my first historic. The story shifts back and forth between contemporary and the 1800's. I loved how the two stories intertwine. Two protagonists, 150 years apart, have very different lives but similar hopes, dreams, and challenges.
How do you pick your characters personalities, or looks?
Characterization is the heart of fiction. Characters drive the plot. I do a number of things to bring them to life. My husband knows that when I'm sitting silently, staring at nothing in particular, I'm actually hard at work. I see scenes and watch who emerges. I also have my main characters journal. When I write from their perspective in a journalistic fashion—free writing, no concern for form or mechanics, pouring out feelings and emotions—it helps me to stay true to each character when my writing returns to the manuscript. Have you ever read a novel where you just want to scream at the main character? Don't go there! Stop saying that. That's a bad decision. That's why authors need to build a strong profile—so readers will understand WHY a character does what they do.
I spend less focus on a character's appearance than on their personality. I try not to write a stereotypical too-good-to-be-true handsome male or gorgeous female. I also avoid green eyes. 2% of the world's population has green eyes—except in fiction.
What is your favorite genre to read? What is your favorite genre to write? And why are they your favorites?
I gravitate to contemporary fiction in both reading and writing. It's current, relevant, and relatable. However, I do enjoy well-crafted historic fiction and biblical fiction as well. I'm less inclined toward spec fiction.
What inspires you the most?
As a former teacher and retired principal, I know that success motivation works—both with kids and adults. I began writing tentatively, guarding my work carefully. My first success was winning 2nd place in a short story contest. My second was winning first place in the fiction category of a contest titled "Fresh Voices." I began to let my guardedness down and share my writing. So, I guess my real answer is that I'm inspired when I know people enjoy what I write.
Once an idea takes root, how long does it take you to write it down?
The answer to that question depends on the idea. If we're talking about an idea for a new novel, the answer is weeks, possibly months. Much brainstorming and preparation take place before the first line is typed. However, if we're talking about an idea for a scene or about word choices on a current work-in-progress, I write it down immediately, even if it's only scratch paper or post-it notes. If I don't write it down, it will disappear somewhere in my brain's spam folder.
Do you have a favorite author? Or someone whom you would say has influenced your writing style?
There are so many talented authors making it difficult to pick just one. I've been a long-time fan of Francine Rivers. The Mark of the Lion trilogy remains among my favorite fiction books ever. I admire her work and would love to meet her for coffee, chat about books, and gain some insight into how God guides her ideas.
What are your hobbies other than writing?
I love people so I enjoy time with my church friends and with my sisters. We have game nights and creative dinners. Sometimes we choose an ethnic cuisine and prepare a dinner with a theme. I love to visit my grandsons, ages 4 and 6. Nine hours travel is a challenge but we try to see them every few months. I also go to the gym three times a week to keep this aging body healthy.
Do you have a genre that you would never write? (In the Christian genre sphere i.e. speculative, historical, contemporary, etc.)
I doubt that I would ever try to write a speculative fiction novel. I admire those who do, but my brain doesn't think that way. I'm much more grounded in the realistic.
What is one thing in your life that you would say has had the greatest impact on your writing? Or in your life in general?
A love of reading had the greatest impact on my writing. Years ago, I read Jan Karon's Mitford series and fell in love with the characters. It gave me a sense of awe knowing that they were the result of an author's imagination. That's when I first began writing. Another key impact came as a teacher. I taught all subjects to elementary students, but loved teaching writing.
Lastly, what was your favorite book growing up?
The Little Engine That Could was and still is one of my favorites. I love the messages it holds. Regardless of what others do, help someone in need. Put forth your best effort. Maintain a positive attitude. It's timeless. I still love reading it to my grandsons.
Blog Stops
Book Reviews From an Avid Reader, September 4
Debbie's Dusty Deliberations, September 5
Texas Book-aholic, September 6
Inklings and notions, September 7
For Him and My Family, September 8
HappyWhenReading, September 8
deb's Book Review, September 9
Locks, Hooks and Books, September 10
Adventures of a Travelers Wife, September 11 (Author Interview)
Ashley's Clean Book Reviews, September 11
Because I said so — and other adventures in Parenting, September 12
A Modern Day Fairy Tale, September 13
Musings of a Sassy Bookish Mama, September 14
Truth and Grace Homeschool Academy, September 15
Happily Managing a Household of Boys, September 16
Spoken from the Heart, September 17 (Author Interview)
Giveaway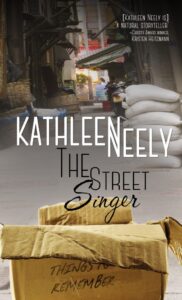 To celebrate her tour, Kathleen is giving away the grand prize of a copy of the book!!
Be sure to comment on the blog stops for nine extra entries into the giveaway! Click the link below to enter.