Now you may have seen my original post on clean royal romances, but there were just so many that I couldn't fit them all into one post (and I keep finding more)! So here I am back with even more sweet swoony royal romances for you to binge! Some of my favorite books continue to be ones where the main character (and trusty best friend) have real life experiences; usually, the royal family is involved, and of course, twists on fairy tales. But the three things it must have are a happy ending where the characters find hope, they find out that true love does exist, and they are clean romance books that do NOT have any language or on-page sexual content.
I think some of the best royal romance books can be found when I am not even looking for a new one, and I love that so many of them are as different from your typical British throne trope as you can get. The sheer variety of books in this subgenre is quite amazing. There is a crown princess who wants a new life that's a quiet life, princes who need a second chance, younger brothers that mettle where they are not really wanted, slow-burn romance that slowly sweeps us off our feet and the entire time we're reading these amazing authors have managed to make them clean romance novels that any age can enjoy (and recommend).
I will continue to update this post as I find new ones and will add them to the bottom as I find them.
Sweet Clean Royal Romance Books To Read
The Rejected King by Kortney Keisel – this is the first book in the series, but the second book is one of my favorites in the series.
The king hired her to find him a wife. She fell for him instead.
Marriage is the only thing that can save King Davin's most-hated reputation. And to make things worse, Davin hired the one girl he's most attracted to, but her social class makes her an impossible choice for his future.
Emree Dutson has one goal: raise the king's approval ratings so she can get a permanent job at the castle. Falling in love with the king wasn't part of the job description. Now her feelings for him are ruining everything.
Will Davin risk his crown for love?
Romanov by Nadine Brandes – Nadine Brandes just writes good books. They are moving, and intrigue your imagination in ways that are beyond beautiful.
My name is Anastasia. The history books say I died. They don't know the half of it.
Anastasia "Nastya" Romanov was given a single mission: to smuggle an ancient spell into her suitcase on her way to exile in Siberia. It might be her family's only salvation. But the leader of the Bolshevik army is after them, and he's hunted Romanov before.
Nastya's only chances of saving herself and her family are either to release the spell and deal with the consequences, or to enlist help from Zash, the handsome soldier who doesn't act like the average Bolshevik. Nastya has only dabbled in magic, but it doesn't frighten her half as much as her growing attraction to Zash. She likes him. She thinks he might even like her.
That is, until she's on one side of a firing squad . . . and he's on the other.
Dream of Kings by Sharon Hinck – One of my favorite authors, all her books are spectacular award-winning allegorical books.
The Future Never Sleeps

In the glacial nation of Norgard, Jolan the dream teller serves every seeker, whether peasant or high lord. Though she loves using her gift, she struggles to navigate the corrupt and dangerous court and the jealousies of the Guildagard.

When an old man's nightmare imparts a dire warning, Jolan realizes her entire nation is in danger. But before she can sound the alarm, she is betrayed by the guilds and sold into slavery in a rival kingdom far to the south. As a slave in a foreign land, at first Jolan can't see beyond her singular focus: return home to warn Norgard of the coming calamity. After facing new dangers, making new friends, and forgiving old wrongs, she must fulfill the purposes the Provider has set before her.

Only then can she face a decision that could cost her the man she loves, her calling, and her freedom—all to save a people who abandoned her.
Kings Captive by KM Shea – First book in a phenomenally humorous series
I can turn into a housecat.
It's a fun magic, except in a world filled with vampires and werewolves, it doesn't exactly make me a powerhouse. Instead, the supernatural community has classified me as an outcast, which means one thing: picking on me is open season all day, every day.
The local fae are the worst of all, and it's during one of their regular "capture the cat-girl" sessions that I shift into my cat form and meet HIM for the first time.
Noctus is so powerful his magic radiates off him like a sun, and my fae captors can barely look in his general direction. And then my life gets even more terrifying when Noctus decides to take me with him. As a pet.
Why did he pick today to "adopt don't shop" a cat?
It gets worse when I realize he's an elf, a ruling race of supernaturals that was supposedly killed off centuries ago.
But he's not just any elf, no. He's an elven king, with heaps of secrets to protect. Secrets that I am quickly learning since he includes his new pet in everything from breaking into buildings to inspect classified paperwork to tracking down sketchy supernaturals.
All this means if he gets even a hint that I'm not a real cat, I'm going to find out firsthand how elves treat their prisoners.
So, escaping Noctus is priority #1. How hard can it be? (Answer: very.)
The Unveiling by Tamara Leigh – This whole Historical Romance series is AMAZING and very addicting.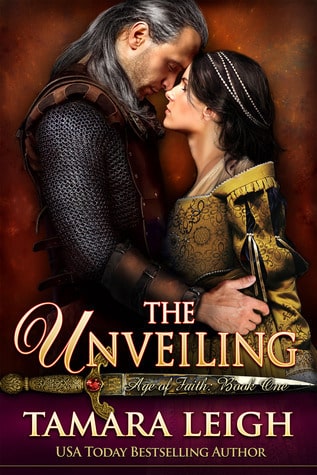 12th century England: Two men vie for the throne: King Stephen the usurper and young Duke Henry the rightful heir. Amid civil and private wars, alliances are forged, loyalties are betrayed, families are divided, and marriages are made.

For four years, Lady Annyn Bretanne has trained at arms with one end in mind—to avenge her brother's murder as God has not deemed it worthy to do. Disguised as a squire, she sets off to exact revenge on a man known only by his surname, Wulfrith. But when she holds his fate in her hands, her will wavers and her heart whispers that her enemy may not be an enemy after all.

Baron Wulfrith, renowned trainer of knights, allows no women within his walls for the distraction they breed. What he never expects is that the impetuous young man sent to train under him is a woman who seeks his death—nor that her unveiling will test his faith and distract the warrior from his purpose.
Heart of a Royal by Hannah Currie – Very deep, clean books and I loved this quote.
Brought to the palace as a newborn, the royal life bestowed upon Mackenna Sparrow was never meant to last forever. With Princess Alina engaged to be married, Mackenna's presence as companion is no longer required and, like it or not, she must return to the birthright which should have been hers – that of a commoner. But not everyone at the palace wants her gone. When the truths she's based her life on start crumbling as fast as her future, will she find the courage to trust, both herself and the prince she's fallen in love with?
Cinder by Marissa Meyers – She needs Prince Charming…to be her partner.
Humans and androids crowd the raucous streets of New Beijing. A deadly plague ravages the population. From space, a ruthless lunar people watch, waiting to make their move. No one knows that Earth's fate hinges on one girl. . . .

Cinder, a gifted mechanic, is a cyborg. She's a second-class citizen with a mysterious past, reviled by her stepmother and blamed for her stepsister's illness. But when her life becomes intertwined with the handsome Prince Kai's, she suddenly finds herself at the center of an intergalactic struggle, and a forbidden attraction. Caught between duty and freedom, loyalty and betrayal, she must uncover secrets about her past in order to protect her world's future.
Reviving the Commander by Nadine C. Keels – this one is a sweet love story with mature main characters that I adored.
Crowns Legacy, Book One: a sweet later in life romance
She isn't a beautiful young maiden hoping to erase the Commander's memory.

Opal Whilstead knows she has a reputation: a reputation as a bright, giving, upright woman—smiling and laughing her way through hopeless spinsterhood. It's been so long since she's had serious feelings for a man, but now she finds herself taken with the Commander Exemplar of Diachona's army.

And she regrets it.

Not only is the Exemplar a widower still longing for his wife, but he's the father of the reigning king. Even if a man of such prestige could find love again, he'd be unlikely to search for it among the kingdom's old maids. Besides, Opal dreads being found, due to a grievous secret she carries…
While this historical fantasy book does not have magical elements, the story is set in a completely fictional world.
Fairy Tale Romance Collection Book 1: The Healer's Apprentice by Melanie Dickerson – This whole series of books is top-notch, they are aimed at a young adult audience but everyone I know loved their classic fairytale plot twists.
A realistic, fast-paced reimagining of the Sleeping Beauty fairytale full of royalty, romance, and danger. This masterful combination of love and heartbreak—combined with the novel's surprise ending—is everything fans of fantasy, historical, and medieval fiction yearn for.
Rose has been appointed as a healer's apprentice at Hagenheim Castle, a rare opportunity for a woodcutter's daughter like her. While she often feels uneasy at the sight of blood, Rose is determined to prove herself capable. Failure will mean returning home to marry the aging bachelor her mother has chosen for her—a bloated, disgusting merchant who makes Rose feel ill.
When Lord Hamlin, the future duke, is injured, it is Rose who must tend to him. As she works to heal his wound, she begins to understand emotions she's never felt before and wonders if he feels the same.
But falling in love is forbidden, as Lord Hamlin is betrothed to a mysterious young woman in hiding. As Rose's life spins toward confusion, she must take the first steps on a journey to discover her own destiny.
The Rose and the Thistle by Laura Frantz – This one deals more with royal secrets and intrigue that I so enjoyed!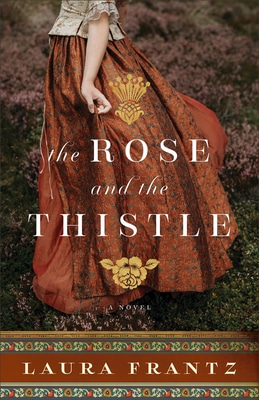 In 1715, Lady Blythe Hedley's father is declared an enemy of the British crown because of his Jacobite sympathies, forcing her to flee her home in northern England. Secreted to the tower of Wedderburn Castle in Scotland, Lady Blythe awaits who will ultimately be crowned king. But in a house with seven sons and numerous servants, her presence soon becomes known.
No sooner has Everard Hume lost his father, Lord Wedderburn, than Lady Hedley arrives with the clothes on her back and her mistress in tow. He has his own problems–a volatile brother with dangerous political leanings, an estate to manage, and a very young brother in need of comfort and direction in the wake of losing his father. It would be best for everyone if he could send this misfit heiress on her way as soon as possible.
Drawn into a whirlwind of intrigue, shifting alliances, and ambitions, Lady Blythe must be careful whom she trusts. Her fortune, her future, and her very life are at stake. Those who appear to be adversaries may turn out to be allies–and those who pretend friendship may be enemies.
Evermore: A Sweet Medieval Romance by Jody Hedlund
An ancient key. A secret treasure. And a princess destined to use them both to fight evil and restore peace.

Raised by a noble family, Lady Adelaide has always known she's an orphan. Little does she realize she's one of the lost princesses and the true heir to Mercia's throne…until a visitor arrives at her family estate, reveals her birthright as queen, and thrusts her into a quest for the throne whether she's ready or not.

Unable to tolerate King Ethelwulf's cruelty and lawlessness, Christopher Langley left Mercia years earlier, training a group of rebels in neighboring Norland. When he returns home after his mother's death, he discovers that not only is Adelaide all grown up, but she's also the rightful queen of Mercia.

When King Ethelwulf discovers Adelaide's location, he'll stop at nothing to capture her and the key she holds to the ancient treasure. Christopher is just as determined to protect Adelaide so she can lead the growing rebellion. When feelings ignite between the two old friends, forces threaten to destroy their love and rip them apart forever.
Beholden by Jody Hedlund – This one is the first book in The Fairest Maidens series and the entire series is one I binged.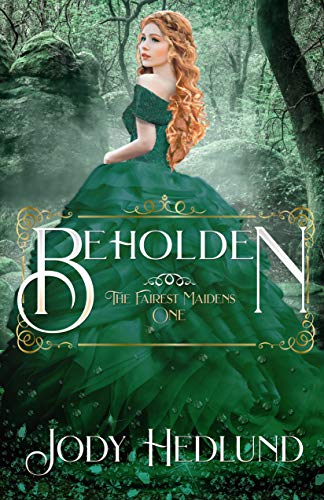 In a land where being the fairest maiden is a curse . . .
A beautiful noblewoman with a terrible secret, and a prince subjected to slavery.
Upon the death of her wealthy father, Lady Gabriella is condemned to work in Warwick's gem mine. As she struggles to survive the dangerous conditions, her kindness and beauty shine as brightly as the jewels the slaves excavate. While laboring, Gabriella plots how to avenge her father's death and stop Queen Margery's cruelty.
Prince Vilmar of Scania enslaves himself in Warwick's gem mine as part of a royal test to prove himself the most worthy of three brothers to become the king's successor. Amidst the hardships, he doesn't anticipate his growing compassion for the other slaves, especially tenderhearted Gabriella.
As the annual summer ball looms nearer, Gabriella sets into motion her plan to end Queen Margery's evil. When Vilmar learns of Gabriella's intentions, he resolves to come to her aid and fight against Warwick's queen. But doing so may require him to give up his chance of becoming Scania's next king, perhaps even cost him his life.
The real Cinderella story.
The Heart of the King by Carol Moncado – Now if you know me you know I am enamored with Carol Moncado. Her books are contemporary novels full of real-life Prince's, and normal life interwoven with a unique take on what royal life might actually look like. So you may start with this book but ALL her book series are my favorites. They are all interconnected not stand-alone novels.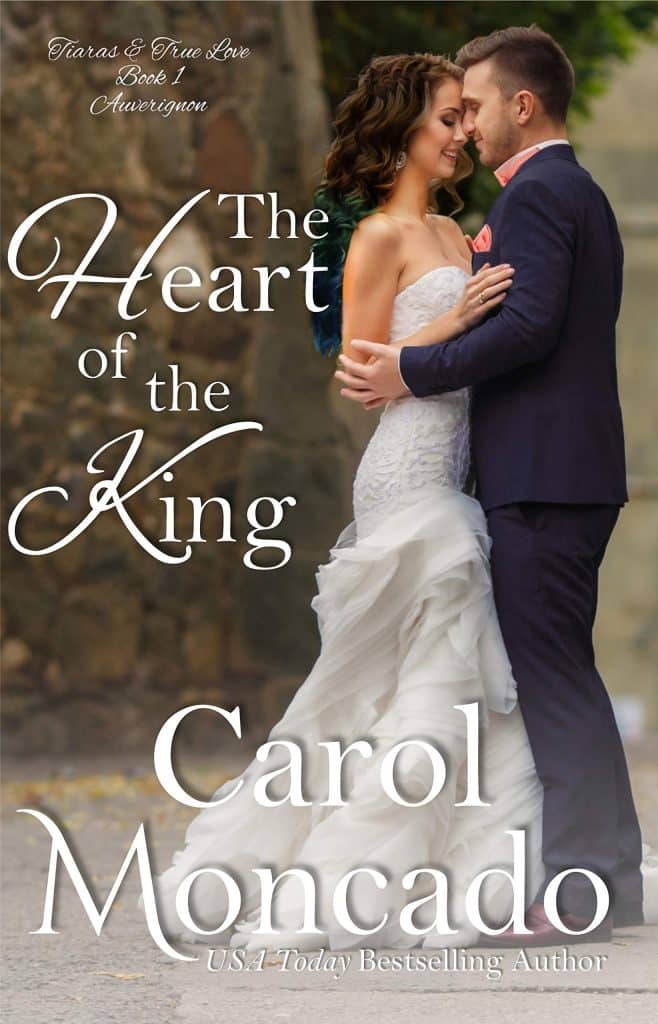 He's about to be king.
She's never heard of his country.
Can they make a monarchy – much less a marriage – work?
Crown Prince Steven Charles David Chauncey of Auverignon will be king in less than a week.
Which means the Council has final say in his marriage – if he's not already married before taking the throne.
Jasmine Roberts has never gotten drunk before in her life, but the one time she does, she quickly discovers that what happens in Vegas… well…
That's when Jazz discovers that she's the next queen of Auverignon.
She agrees to return to Auverignon with him and help forge a new path, especially for Auverignonian women. In the process, she simply needs to not lose herself – and hopefully win the Heart of the King.
A Royal Christmas for the Marine by Jess Mastorakos – This was such a fun Christmas romance, I devoured this book (really all of Jess Mastorakos's books).
Surprise! I'm a prince.
As the heir to the throne of a small country, I was shocked when my younger sister decided to leave her royal life behind and move to America. Like any good big brother would, I started digging to see what she was up to.
Somewhere along the way, I found myself chatting with the woman of my dreams on a new dating app. She's smart. She's funny. And she's about to get out of the Marines after serving for eight years.
The only problem is, she doesn't know I'm a prince.
Now I've come to America to tell her. Hopefully she doesn't freak out.
Get ready for a very merry royal Christmas for the First Comes Love crew!
Royally Rearranged: A Sweet Royal Romcom by Emma St. Clair – Emma St. Clair's books are the ones I reach for every time I need something that will make me smile
There WILL be a royal wedding. The only question–who will be my groom?
An arranged marriage isn't the worst fate for a princess like me. Especially because I've been in love with my intended groom since we were children.
But when my prince shows up with an American girlfriend instead of an engagement ring, all arrangements are off.
The clock is nearing midnight–I won't turn into a pumpkin, but if I'm not wed by summer's end, I'll forfeit my kingdom.
Just your typical royal dilemma.
Out of sheer desperation, I make a deal with a devilish duke. Rafe de Silva is the prince's rival and has a plan so ridiculous it just might work.
One moment, Rafe seems to relish making the prince jealous.
And the next… he's making me question everything with his words, his touch, and his ability to melt my Ice Princess persona.
I'm not always given the luxury of choice, but now I have a huge one to make. I only hope I don't lose my crown, my heart, or myself in the process…
Royally Rearranged is a sizzling, swoony, closed-door romantic comedy.
Once Upon a Prince by Rachel Hauck – The First of Four books in the Royal Wedding Series!
The story that inspired the Hallmark Original movie! He's a royal prince. She's an ordinary girl. But this holiday could change everything.
Susanna Truitt never dreamed of a great romance or being treated like a princess—just to marry the man she has loved for twelve years. But life isn't going according to plan. When her high-school-sweetheart-turned-Marine-officer breaks up with her instead of proposing, Susanna scrambles to rebuild her life.
The last thing Prince Nathaniel expects to find on his American holiday to St. Simons Island is the queen of his heart. The prince has duties, and his family's tense political situation means he won't be able to marry for love or even choose his own bride.
When Prince Nathaniel stops to help Susanna, who is stranded with a flat tire under the fabled Lover's Oak, he is immediately enchanted by her. And even though he's a total stranger, Susanna finds herself pouring her heart out to him.
Their lives are worlds apart, and soon Nathaniel must face the ultimate choice: his kingdom or her heart?
Common By Laurie Lucking – A YA Book with deep thoughts and sweet notes
One person knows of the plot against the royal family
and cares enough to try to stop it — the servant girl they banished.
Leah spends her days scrubbing floors, polishing silver, and meekly curtsying to nobility. Nothing distinguishes her from the other commoners serving at the palace, except her red hair.
And her secret friendship with Rafe, the Crown Prince of Imperia.
But Leah's safe, ordinary world begins to splinter. Unexpected feelings for Rafe surface just as his parents announce his betrothal to a foreign princess. Then she unearths a plot to overthrow the royal family. Her life shatters completely when the queen banishes her for treason.
Harbored by a mysterious group of nuns, Leah must secure Rafe's safety before it's too late. But her quest reveals a villain far more sinister than an ambitious nobleman with his eye on the throne.
Can a common maidservant summon the courage to fight for her dearest friend?