As I was searching through my Goodreads I realized I evidently love Royal Romances, they rank high on my reading radar—and for a good reason too. I love royal romances because they are so far removed from reality that I can easily loose my self in the story without focusing on how realistic the details are unlike when I read historical romance. So with out further ado here are 10 of my recent clean Royal Romance recommendations! Listed in no particular order.
*This post may contain affiliate links. See my Privacy policy and disclosures here.
Royal Romances I loved!
1 When You Found Me by Anna Augustine
When You Found Me: The Princes of Allura Novella Collection by Anna Augustine
Genres: Royal Romance, Clean Fiction, Novellas
Short Synopsis:
The Princes of Allura were not looking for love, yet they may find it in the strangest of places.
With a twist on Biblical narratives, When You Found Me is a collection of light, uplifting romances for fairytale lovers everywhere!
2 The Princess by Lori Wick
The Princess by Lori Wick
Genre: Royal Fiction
Return to the Romance of Pendaran
In the Land of Pendaran, Shelby Parker lives a humble but good life. Her special qualities are eventually noticed by the king and queen of the House of Markham, who seek a new wife for their widowed son, Prince Nikolai.
To uphold the tradition of their country, Shelby and Nikolai agree to an arranged marriage. But while Nikolai is a perfect gentleman in public, he remains distant at home, leaving Shelby to wonder what is in his heart. Will the prince ever love her as he did his first wife? Can the faith they share overcome the barriers between them?
3 & 4 To Love a Prince & To Save a King by Rachel Hauck
To Love A Prince by Rachel Hauck
Genre: Royal Romance
Short Synopsis: Despite his long hair and beard, Daffy recognizes her prince. She reminds Gus of his heritage and assures him that he's needed in Lauchtenland.
When Daffy and Gus find themselves on assignment at Hadsby Castle in preparation for his brother's wedding ball, their friendship blooms into affection.
Then secrets are exposed, and Gus must choose between his past hurts and his future hope. And Daffy must trust her heart to forever love a prince.
Find it on Amazon & Goodreads
To Save a King by Rachel Hauck
Genre: Royal Romance
Short Synopsis:
Then Prince John is called home for an emergency. How can he leave the woman who lifted him from his sorrows? But can Gemma join him on a royal stage and risk her secret coming to light?
With a touch of divine help, Prince John and Gemma just might find the kind of love that saves and ultimately write their very own fairy tale.
5 Royal Decoy By Heather Frost
Royal Decoy By Heather Frost
Genre: Royal Romance, Fantasy
Synopsis:
Clare made a mistake when she saved the princess's life . . .
In one horrible night, Clare is forced to give up her life as a kitchen maid to become the princess's decoy. Thrust into a dangerous new world of royals and deadly politics, she must learn how to be the princess's perfect double to ensure her betrothal to an enemy prince. Desperate to survive, Clare throws herself into self-defense training, taught by her distractingly attractive bodyguard, Bennick. The spark between them is undeniable, though a relationship is forbidden. When a ruthless assassin begins stalking her, it becomes frighteningly clear that some will stop at nothing to end the tenuous peace—and Clare's life.
Across the northern mountains, Prince Grayson is his father's ultimate weapon. His name inspires fear in all who hear it, but no one knows his heavily guarded secret. He carries out every brutal order only because his father holds power over the one person he cares about. Grayson's silent obedience is tested, however, when his father reveals plans to exploit the marriage alliance between two of their greatest enemies. If Grayson submits, the blood of thousands will spill. If he resists, the girl who means everything to him will die.
The fate of Eyrinthia hangs in the balance. Some want peace. Some want war. All will be thrown into chaos.
6 Maiden of Candlelight and Lotuses By Anastasia Blythe
Maiden of Candlelight and Lotuses By Anastasia Blythe
Genre: Royal Romance, Fantasy, Asian Fiction
Read my book Review
Synopsis:
Dreams of magic and romance have no place in the heart of a poor farm girl. Or so Liena thought…
Magical visions have a way of turning the world upside-down. One minute Song Liena is a simple farm girl hoping for good luck at the matchmaker, and the next she is a student at the empire's most rigorous and dangerous magic Academy.
It doesn't take long for her to realize she's ten years behind, her magic is weak, and she is in way over her head. But Liena is determined to work hard if it means a chance at a better life for her family.
She just wasn't counting on being noticed by the handsome Crown Prince—a warrior-in-training said to have fire magic powerful enough to decimate entire armies.
But princes are not for peasants, and everything is not as it seems at the Academy. Monsters lurk around every corner, and someone is dabbling in dark, illegal magic.
Someone who has set their sinister sights on her.
7 The Snow Queen by KM Shea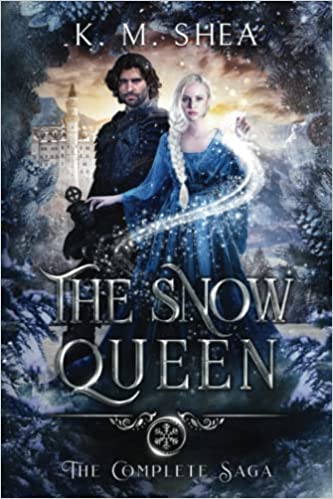 The Snow Queen by KM Shea
Genre: Royal Romance, Fantasy
See the first line of The Snow Queen
Synopsis:

Rakel is a princess who should have been queen.
Instead, as a despised magic user she has spent most of her life exiled on a barren mountain, alone in her ice-castle. But her empty life is shattered when an army of magic users invades her home country, bringing cruelty and darkness in their wake.
Rakel refuses to watch as the people who've scorned her are attacked, imprisoned, and even killed by the invading army. Swallowing her fear, she joins forces with her jailers and uses her magic in a way she never anticipated: on the battlefield.
But one of the invading colonels is different.
When enemy Colonel Farrin Graydim meets Rakel he is immediately intrigued by her. Her harsh rejection of an offer to join their cause only deepens his interest. He admires her unflinching strength, but his bloody past makes him utterly unworthy to stand beside the purity of her ice and snow.
Can Rakel defeat the invasion and free not only her people, but Farrin as well? For if her magic cannot defend her homeland, all is lost.
8 Good Enough for a Princess: Monarchies of Belles Montagnes Series by Carol Moncado
Good Enough for a Princess by Carol Moncado
Genre: Royal Romance, Contemporary Fiction

Synopsis: Crown Princess Adeline of Montevaro has her life planned out for her: get her Master's in international relations, marry nobility, produce an heir, inherit the throne.
There's no room for romance with the single father she meets when their cars collide on an icy winter night. Parliament – and her father – would never approve.

Charlie Brewer grew up without roots. The son of an archaeologist father and anthropologist mother, he either traveled along or lived with his aunt and uncle in the States.

He's determined to give his daughter the stability he never had. He also wants to give her a mom, but the beautiful European he's falling for refuses to move to Serenity Landing, Missouri permanently.

He won't move.
She can't stay.

What will happen when they try to forget each other by dating someone "acceptable"?

They find themselves drawn together by one of the girls in the after school program Addie supports – a girl who happens to be Charlie's daughter.
How will Charlie, and his daughter, feel when they find out the woman they've both fallen for is a… princess?

A trip halfway around the world shows Charlie and Addie how much they long to be together – and how impossible it is.

Is there any way he can prove he is Good Enough for a Princess?
9 Unbetrothed by Candice Pedraza Yamnitz
Unbetrothed by Candice Pedraza Yamnitz
Genre: Royal Romance, YA, Fantasy
Synopsis:
Around Agatha Sea, princesses are poised, magically gifted, and betrothed.
So, when seventeen-year-old Princess Beatriz still fails to secure a betrothal, her parents hold a ball. Forming an alliance could mean the difference between peace and war, but Beatriz doesn't want just any suitor. She's in love with her best friend, Prince Lux. Marrying Prince Lux will always be a silly dream as long as she has no magical gift.
Princess Beatriz will do whatever it takes to obtain a touch of magic, including making a deadly oath to go on a quest to Valle de Los Fantasmas. A valley where no one comes out alive.

If she can manage to succeed, Princess Beatriz could have everything she desires and secure peace for her kingdom. If she fails, she'll lose not only her greatest dream but also her kingdom, and maybe even her own life.

On Amazon & Goodreads
10 In Search of A Prince by Toni Shiloh
In Search of A Prince by Toni Shiloh
Genre: Royal Romance
Read my Review of In Search of a Prince
Synopsis: It seems like a dream come true . . . until it forces her to question everything.

Brielle Adebayo is fully content teaching at a New York City public school and taking annual summer vacations with her mother to Martha's Vineyard. But everything changes when her mom drops a bombshell–Brielle is really a princess in the island kingdom of Ọlọrọ Ilé, off the coast of Africa, and she must immediately assume her royal position, since the health of her grandfather, the king, is failing.

Distraught by all the secrets her mother kept, Brielle is further left spinning when the Ọlọrọ Ilé Royal Council brings up an old edict that states she must marry before her coronation, or the crown will pass to another. Brielle is uncertain if she even wants the throne, and with her world totally shaken, where will she find the courage to take a chance on love and brave the perils a wrong decision may bring?
After all of that I still have so many more clean Royal romances to recommend so I think there will definitely be a part two!