Have you seen the Disney cartoon adaptation of Lewis Carrol's Alice in Wonderland books? I honestly had no idea that the movie was based on more than just one book. They are in fact all centered around Lewis Carrol's Wonderland books that feature Alice's adventures. Most often referred to as the wonderland collection. Did you know that Lewis Carroll is a pseudonym? Lewis Carroll's real name was Charles Lutwidge Dodgson. Once you've stepped into this adventurous world you may not want to leave.
Alice in Wonderland Adventures begin
The original Wonderland series is full of a magical world, word play, and strange creatures, where a young girl falls into a rabbit hole and meets a white rabbit then proceeds to have the adventure of a lifetime. The first book, Alice's Adventures in Wonderland, was originally published in 1865 by Lewis Carroll with Illustrations by Sir John Tenniel. It falls into the category of literary nonsense if you can believe that.
About Alice's Adventures in Wonderland:
Alice's Adventures in Wonderland tells of a young girl named Alice, who falls through a rabbit hole into a subterranean fantasy world populated by peculiar, anthropomorphic creatures. It is considered to be one of the best examples of the literary nonsense genre. The tale plays with logic, giving the story lasting popularity with adults as well as with children.

One of the best-known and most popular works of English-language fiction, its narrative, structure, characters, and imagery have been enormously influential in popular culture and literature, especially in the fantasy genre. The work has never been out of print and has been translated into at least 97 languages. Its ongoing legacy encompasses many adaptations for stage, screen, radio, art, ballet, theme parks, board games, and video games.
A little-known fact and one that has caused some confusion is that Alice Adventures in Wonderland's original manuscript title was Alice's Adventures Underground! Another interesting fact is that Lewis Carroll rejected the first edition of Alice's Adventures in Wonderland because of the poor quality printing that was used.
The second book in Lewis Carroll's Alice Adventures series is Through The Looking Glass, and What Alice Found There, and it was first published in 1871. This book includes more of the iconic characters such as the Mad Hatter (and that of the Mad Hatter's tea party!), the Queen of Hearts, and the Grinning Cheshire Cat.
About Through the Looking Glass, And What Alice Found There:
Through the Looking-Glass, and What Alice Found There is the sequel to Alice's Adventures in Wonderland. Set some six months later than in the earlier book, Alice again enters a fantastical world, this time by climbing through a mirror into the world that she can see beyond it. Through the Looking-Glass includes such celebrated verses as Jabberwocky, The Walrus and the Carpenter, and the episode involving Tweedledum and Tweedledee.

Alice's Adventures in Wonderland began as a story told to three little girls in a rowboat, near Oxford. Ten-year-old Alice Liddell asked to have the story written down and two years later it was published with immediate success. Carroll's unique play on logic has undoubtedly led to its lasting appeal to adults while remaining one of the most beloved children's tales of all time.
Third, we have the lost chapter or episode of A Wasp in a Wig, it was supposed to be included in Through the Looking Glass however, either because the illustrator Sir John Tenniel didn't like the storyline or just didn't have time to make another drawing the chapter was dropped and not found again until 1974. Yet, there is still some controversy over whether the chapter that was discovered is the work of Lewis Carroll as many people believe it to be sup par to the rest of Carroll's writings.
About The Wasp in a Wig: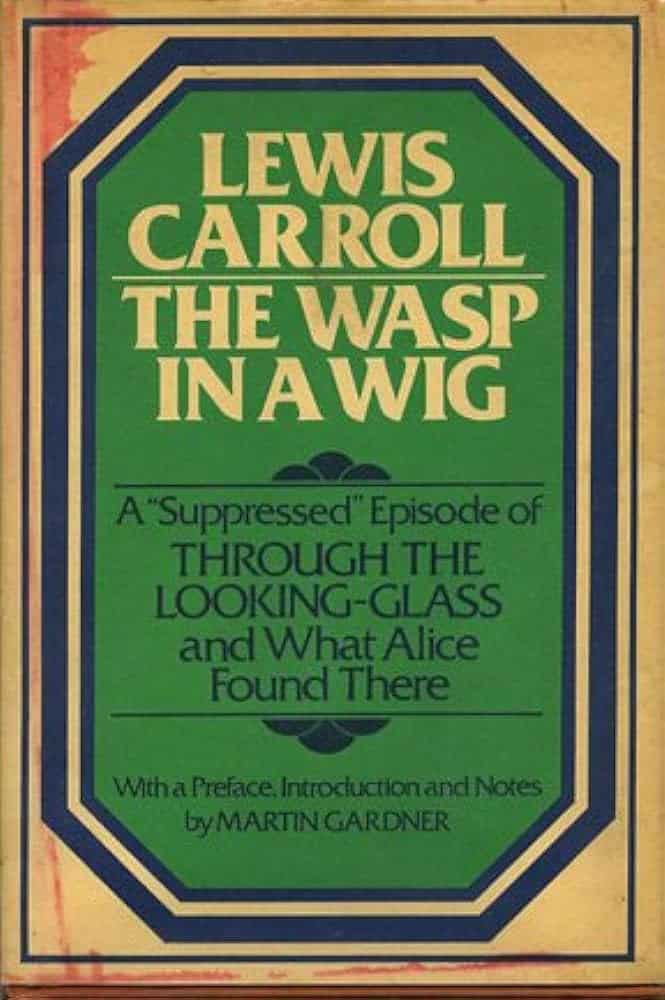 Now more than one hundred years after Lewis Carroll's immortal "Through the Looking-Glass" was published, lovers of the "Alice" books have a new episode written by Carroll in which Alice meets an aged, bad-tempered wasp who wears a yellow wig. The episode, which was originally intended to follow the White Knight sequence in Chapter VIII, is rich in Carrollian humor, nonsense, and wordplay; and it contains a five-stanza poem referencing the yellow wig. According to Martin Gardner, the discovery and publication of "The Wasp in a Wig" is an event of great significance not only for Carrollians but for anyone interested in language, humor, the adventures of Alice, or, for that matter, wasps.
Fourth, we have The Nursery "Alice" by Lewis Carroll. This is the tale of Alice Adventures in Wonderland redone or adapted by Lewis Carroll himself, especially for young readers. It includes many of the original art illustrations, enlarged and revised. With a new cover, short stories and written in a voice as if the story is being read aloud by someone talking to young children. It was published in 1890.
About The Nursery Alice: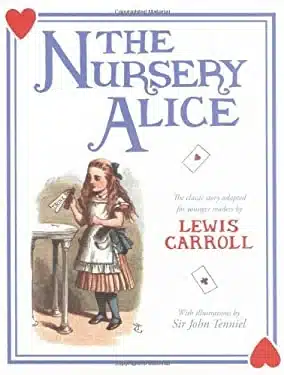 The Nursery Alice, originally published by Macmillan & Co. in 1890, was the very first color edition of Alice. It was intended, wrote Carroll, "to be read by Children aged from Nought to Five. To be read? Nay, not so! Say rather to be thumbed, to be cooed over, to be dogs'-eared, to be rumpled, to be kissed . . ." With this new, younger readership in mind, Carroll rewrote Alice, simplifying and abridging the original text, while Tenniel redrew, enlarged, and colored 20 of his iconic illustrations. The resulting book is a delightfully engaging experience, with readers prompted to interact not only with the story but also with the images and even the physical book itself, in a way that is thoroughly modern. Gloriously reproduced for the anniversary year, the present edition retains every word of the original and restores the exquisite delicacy of Tenniel's artwork—lost in reproductions across the decades—along with the delightful cover artwork by Emily Gertrude Thomson, a placeholder ribbon, and gold page edges. This gem of a book is the perfect introduction to Alice, a delight for readers of every age.
Many of Lewis Carroll's books have been made into limited edition compilations so readers can have easier access to the original Alice Adventures and those editions are stunning with new illustrations, ink drawings, and title pages with amazing details.
About Lewis Carroll AKA Charles Lutwidge Dodgson:
"Dodgson, Charles Lutwidge [pseud. Lewis Carroll] (1832–1898), author, mathematician, and photographer, was born at Daresbury parsonage, Cheshire, on 27 January 1832, the eldest son and third of eleven children of Charles Dodgson (1800–1868), curate of the parish, later rector of Croft-on-Tees, Yorkshire, examining chaplain to the bishop of Ripon, archdeacon of Richmond, and canon of Ripon Cathedral, and his wife and first cousin, Frances Jane, née Lutwidge (1803–1851)." Charles Lutwidge Dodgson also attended Oxford University and excelled even after some tragic life events, he went on to become a Christ Church mathematics lecturer and deacon.
Other than the tales of Alice in Wonderland Charles Lutwidge Dodgson wrote many poems such as one of the most revered nonsense poems in English, The Hunting of the Snark (1876). If you'd like to learn more about Charles Lutwidge Dodgson I suggest checking out the Oxford Dictionary of National Biography as they have an extensive bio on both his personal and professional lives. It was fascinating but alas too much information to share here.
What to read after Alice's Adventures in Wonderland?
So, I LOVED reading the particular world that Lewis Carroll imagined, he created something so unique and I didn't want to leave so… I found some retellings!
First and foremost were The Wonderland Trials by Sara Ella followed by the sequel The Looking Glass Illusion. The Wonderland Trials: Solve the clues. Face your fears. Survive the Trials.
All Alice Liddell wants is to escape her Normal life in Oxford and find the parents who abandoned her ten years ago. But she gets more than she bargained for when her older sister Charlotte is arrested for having the infamous Wonder Gene—the key to unlocking the curious Wonderland Reality. Soon, Alice receives a rather cryptic invitation to play for Team Heart in this year's annual—and often deadly—Wonderland Trials. Now she has less than twenty-four hours to find her way into Wonderland where nothing is impossible . . . or what it seems. The stakes are raised when she discovers players go missing during the Trials each year. Will she and her team solve the clues and find the missing players? Or will betrayal and distrust win, leaving Alice alone in a world of her own? Follow the White Rabbit into this topsy-turvy fantasy where players become prey, a sip of the wrong tea might as well be poison, and a queen's ways do not always lead one where they ought to go.
The Looking Glass Illusion: Step through the looking glass. Slay the Jabberwock. Seek the King.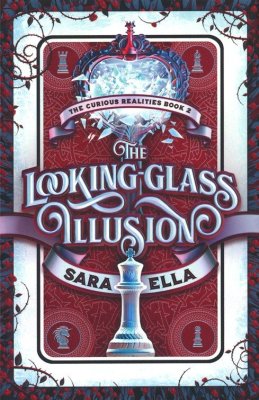 Alice is not prepared to face what awaits beyond the Tulgey Wood. When she and the rest of Team Heart enter the fourth and final Wonderland Trial, it's up to her to lead them to victory. But this Trial is more than a game. If Alice and the others fail to defeat the Jabberwock and reveal the truth about Wonderland, more than points and fame will be lost.

Chess Shire never believed he'd make it this far. Now he's stuck navigating a Trial he's seen but doesn't remember, all while searching for the brother he left behind. Not everything is as black and white as the game that shares his name. And if Alice discovers his deepest regret? Chess might just lose her too.

Apart, Chess and Alice scour the eight squares of the Heart Trial in search of memories, truth, and an Ivory King who seems more illusion than reality. Will they learn to lead together to face their greatest fears? Or will they remain pawns in a queen's game, never truly seeing the Wonderland they've come to believe in?
Second, I found Heartless by Marissa Meyer: Long before she was the terror of Wonderland, she was just a girl who wanted to fall in love.
Catherine may be one of the most desired girls in Wonderland, and a favorite of the unmarried King of Hearts, but her interests lie elsewhere. A talented baker, all she wants is to open a shop with her best friend. But according to her mother, such a goal is unthinkable for the young woman who could be the next queen. Then Cath meets Jest, the handsome and mysterious court joker. For the first time, she feels the pull of true attraction. At the risk of offending the king and infuriating her parents, she and Jest enter into an intense, secret courtship. Cath is determined to define her own destiny and fall in love on her terms. But in a land thriving with magic, madness, and monsters, fate has other plans. In Heartless, her first stand-alone teen novel, the New York Times-bestselling author dazzles us with a prequel to Alice's Adventures in Wonderland.
Third, I found Alice's Adventures Under Water by Lenny de Rooy:
If you enjoyed Lewis Carroll's books "Alice's Adventures in Wonderland" and "Through the Looking-Glass and What Alice Found There", this is the book for you! Finally, there is a third story in the 'Alice' series – written in Carroll's familiar style, but packed with a great number of completely new puns, parodies, and poetry. This time, Alice explores an under-water world, in which she meets new characters who again make her wonder about their strange logic and behaviour. The story can be enjoyed by everyone, even those who have never read Carroll's books. However, the more familiar you are with them, the more references you will recognize in this exceptionally clever tale…
And lastly, I found a list on Barnes and Noble for the darker Alice in Wonderland retellings centered around the villains in the stories. But that is a whole other article waiting to happen.