Welcome to the Lone Start Lit blog tour for In Honor's Defense by Karen Witemeyer!
Title: In Honor's Defense
Author: Karen Witemeyer
Genre: Fiction / Christian / Historical / Inspirational 
Publisher: Bethany House Publishers
Date of Publication: June 7, 2022
Number of Pages: 384 pages 
He's Faced Countless Perils on the Battlefield, but Nothing so Dangerous as Falling in Love.

Luke Davenport has been fighting all his life–for respect, for country, and for those unable to fight for themselves. But now that his Horsemen brothers are domesticated, he's left alone to battle the wildness within. When an opportunity arises to take a job on his own, tracking down a group of rustlers, he jumps at the chance.

Damaris Baxter has mastered the art of invisibility. Plain and quiet, she hides in books and needlework, content to be overlooked. Until her brother dies suddenly, leaving her custody of her nephew. She moves to Texas to care for Nathaniel, determined to create the family for herself that she never thought she'd have and to give him the family he desperately needs.

When Nate finds himself knee-deep in trouble, Luke's attempt to protect him leaves Damaris feeling indebted to the Horseman. But suspicions grow regarding the mysterious death of Damaris's brother. And the more questions they ask, the more danger appears, threatening the family Luke may be unable to live without.

"Karen Witemeyer's use of descriptive narrative, character-revealing dialogue, and historically accurate elements and details draw the reader in from the first sentence."–Women Writing the West
Buy it: Baker Book House
About Karen Witemeyer
For those who love to smile as they read, bestselling author Karen Witemeyer offers warm-hearted historical romances with a flair of humor, feisty heroines, and swoon-worthy Texas heroes. A transplant from California, Karen came to Texas for college, met a cowboy disguised as a computer nerd, married him, and never left the state that had become home.
Winner of the HOLT Medallion, ACFW Carol Award, Inspirational Reader's Choice Award, National Reader's Choice Award, and a finalist for both the RITA and Christy Awards, Karen is a firm believer in the power of happy endings. . . and ice cream. She also loves to reward her readers. Every month she gives away two inspirational historical novels to someone from her newsletter list and offers substantial bonus content on her website. To learn more about Karen and her books, or to join her subscriber list, please visit www.karenwitemeyer.com.
◆ WEBSITE  ◆  FACEBOOK ◆ FACEBOOK FAN PAGE◆ ◆  AMAZON ◆ GOODREADS ◆ BOOKBUB ◆  
An Author Interview with Karen Witemeyer!
Has Texas influenced your writing in any way?
All of my books have been set in Texas, and that is a deliberate choice. Not only is Texas a great backdrop for stories featuring cowboy heroes, but Texas offers a fascinating history to serve as inspiration. It is also a HUGE place. Texas offers forests, plains, deserts, hills, canyons, even coastline. You can find almost any setting type within this great state. The main reason I set my books in Texas, however, is that it is my home. I've lived in Abilene, Texas, for over 30 years. I wasn't raised in Texas, but each of my kids has been, and I've come to love this rugged land of sweeping sunsets and enduring pioneer spirit. I haven't visited every place that I've written about, but nothing excites me more than to travel to the area where my book is set and walk where my characters might have walked. When I find a place where the local history has been preserved, it's like finding a gold mine.
Which character from your book is most or least like you?
Of all my heroines, Damaris Baxter most mirrors my true self. The heroine of In Honor's Defense likes nothing more than to hide herself away with a book or a bit of needlework, my two favorite hobbies. She's such an introvert that she considers herself to be invisible to others, and for the most part, she's okay with that. Yet she is fiercely dedicated to family, and when her brother dies unexpectedly, she travels to Texas to care for her nephew and does things of which she never thought herself capable.
I'm not quite as introverted as Damaris, but I certainly like my time alone and prefer a quiet evening at home to going out. Mingling at parties is my least favorite activity of all time. Thus, getting into Damaris's head required very little imagination. "She'd persevere, even if the thought of asserting herself among strangers delighted her as much as the prospect of being dragged behind a horse. By her hair. Through a bed of cacti."
How important are names to you in your books? How do you choose names?
Choosing names is one of my favorite aspects of starting a new book. I only have three children in real life, but I have scores of characters I get to name. Not only do I want the names to be accurate for the historical era, but I also like to have a little fun with them. For example, the men who band together as Hanger's Horsemen are named Matthew, Mark, Luke, and Jonah. Biblical names were very popular in the 1800s, and being a woman of faith, I love to incorporate them into my books. Damaris is a woman from the Bible about whom we know very little. All we know is that she heard Paul preach in Athens and became a believer. For her to be one of only two converts mentioned in Acts 17:34, I have to believe she went on to play a significant role in the Kingdom. Perhaps, like Lydia, she hosted a church in her home. Or, like Dorcas, ministered to the poor.
If you are interested in learning more about how I name my characters, I have a page on my website dedicated to the fun I have with character names. Click here.
What do you like to read in your free time?
There is a reason I write historical romance—it is my favorite genre to read. I rarely read anything else. I'll bounce around in time periods and settings, but I rarely venture into anything more contemporary than the first world war. Reading books set in bygone eras creates more of a fairy-tale feeling for me. Maybe it's the big dresses. Ha! Historical settings draw me out of my modern world and allow me to escape into a place where contemporary problems can't find me.
What do your plans for future projects include?
I'm starting a new series where I will take familiar fairy tales and give them a Texas twist. I'm working on a version of Snow White first, featuring a Texas Ranger hero, a villainess with a fondness for mirrors, and seven retired drovers at the Diamond D ranch. Should be fun! 
Thank you so much for letting me interview you Karen! I so enjoyed getting to know you a bit better and can't wait to see where you take us next!
GIVEAWAY!
ONE WINNER! 
All three books in the HANGER'S HORSEMEN SERIES.
(US only; ends midnight, CDT, 7/8/2022)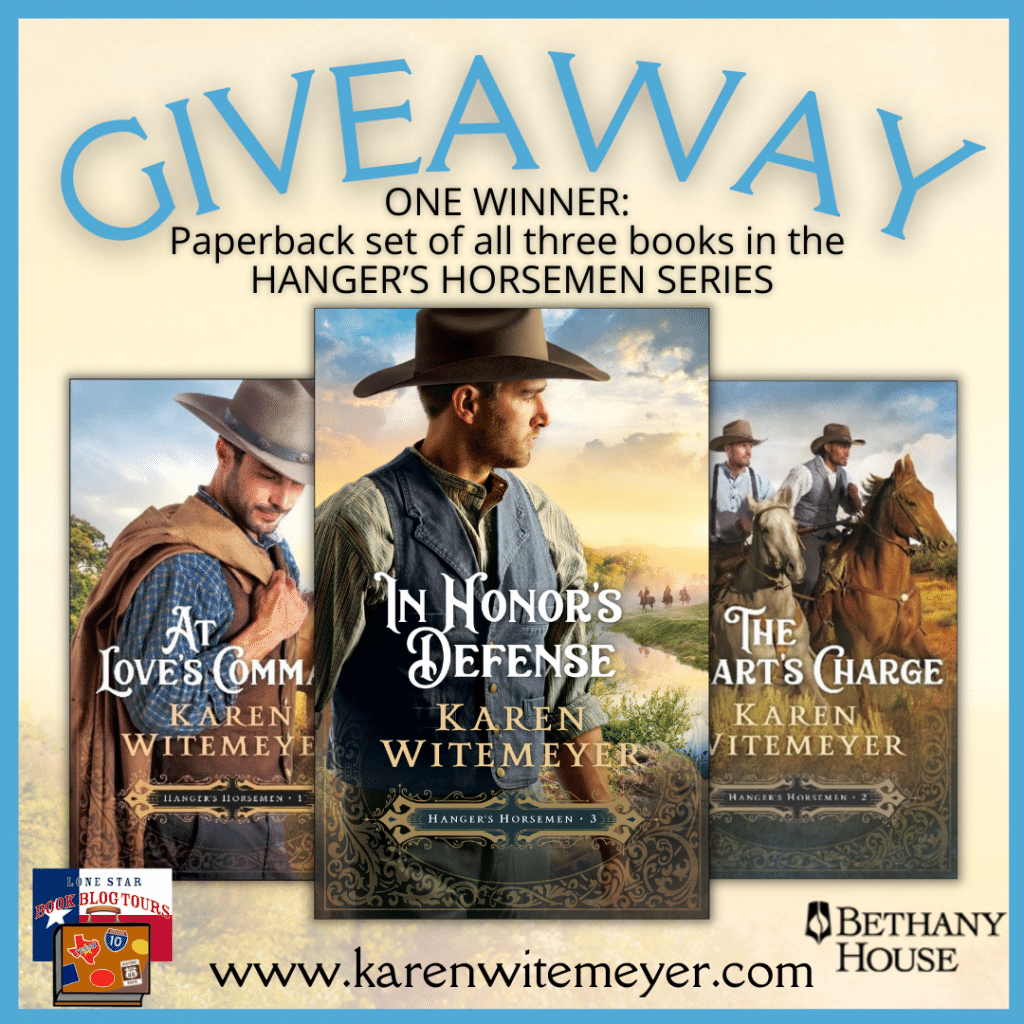 a Rafflecopter giveaway
CLICK TO VISIT THE LONE STAR LITERARY LIFE TOUR PAGE
FOR DIRECT LINKS TO EACH POST ON THIS TOUR, UPDATED DAILY, 
or visit the blogs directly:
blog tour services provided by