Author: Jenny Knipfer
Narrator: Jenn Lee
Length: 7 hours 9 minutes
Series: Sheltering Trees, Book 1
Publisher: Jenny Knipfer
Producer: Audiobook Empire
Released: July 7, 2021
Genre: Historical Romance; Christian Fiction
A HISTORICAL NOVEL OF THE PERILS OF NEWLYWED LIFE AND ALL THAT COMES TO DIVIDE LOVERS In 1897 newly married Beryl and Edward Massart travel more than one thousand miles from Quebec to farm a plot of land in Wisconsin that they bought sight-unseen. An almost magical grove of maples on their property inspires them to dream of a real home built within the grove, not the tiny log cabin they've come to live in. Misunderstandings and tempers get the better of them when difficulties and troubles arise. Just months after they wed, Edward leaves pregnant Beryl in the midst of the coming winter to tend the farm and animals while he goes to be a teamster at a northern Wisconsin logging camp. Will Beryl and Edward walk into the future together to build their house of dreams in the grove of maples, or will their plans topple like a house of sticks when the winds of misunderstanding and disaster strike? Readers of Christian historical fiction, Historical fiction, Women's fiction, and Christian historical romance will be endeared to this slice of late 19th century farm life.

Jenny lives in Wisconsin with her husband, Ken, and their pet Yorkie, Ruby. She is also a mom and loves being a grandma. She enjoys many creative pursuits but finds writing the most fulfilling. Spending many years as a librarian in a local public library, Jenny recently switched to using her skills as a floral designer in a retail flower shop. She is now retired from work due to disability. Her education background stems from psychology, music, and cultural missions. Jenny's favorite place to relax is by the western shore of Lake Superior, where her novel series, By The Light of the Moon, is set. She deems a cup of tea and a good book an essential part of every day. When not writing, Jenny can be found reading, tending to her many houseplants, or piecing quilt blocks at her sewing machine. Her new historical fiction, four-part series entitled, Sheltering Trees, is set in the area Jenny grew up in, where she currently lives, and places along Minnesota's Northern Shore, where she loves to visit. She is currently writing a four-part novella series entitled: Botanical Seasons. Keep current with Jenny by visiting her website at https://jennyknipfer.com. Ways to connect with Jenny via social media, newsletter, and various book sites can be found on her website.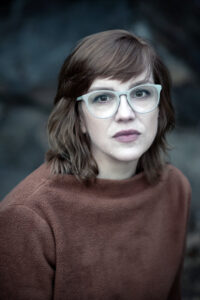 Jenn Lee
After 20+ years as professional NYC actor, I stumbled into some documentary voiceover work. From that moment on, I knew the trajectory of my career had been changed forever. I adore narrating and doing VO, and every job feels like a gift.
Q&A with Jenn Lee
How did you wind up narrating audiobooks? Was it always your goal or was it something you stumbled into by chance?
I did some documentary work as an actor, which eventually led me to study Voice Over. Once I started audiobooks, I found my home.
Did you find it difficult to "break into" audiobook narration? What skill/tool helped you the most when getting started?
It's very competitive, especially now, but if you are willing to do the work…it comes.
A lot of narrators seem to have a background in theatre. Is that something you think is essential to a successful narration career?
I think it's essential, but there are a lot of wonderful narrators who weren't actors….So I think you can learn the skills.
What type of training have you undergone?
Acting, dialects, movement, singing, text work and lots of specific coaching for Audiobook work.
How do you manage to avoid burn-out? What do you do to maintain your enthusiasm for narrating?
I force myself to take a day off. I also make it my job to listen to other more experienced narrators, both reading a book and discussing the craft. This always inspires me.
What are your favorite and least favorite parts of narrating an audiobook?
I find editing physically hard, so while it IS essentially kind of fun, I avoid it at all costs!  Also, lawnmowers and construction noises are my mortal enemy.
Is there a particular genre you feel unsuited for? Have you ever declined a project because you didn't think you were right for it?
I haven't done fantasy or gamelit…so I don't know…but they are not the genres I gravitate toward.
What about this title compelled you to audition as narrator?
Honestly the cover looked amazing and I was an avid follower of Jenny on Instagram. So when I learned the details of the book…I reached out immediately.
How did you decide how each character should sound in this title?
Based on the information I get while reading the book, I basically cast the book in my head from all walks of Life. Sometimes MY life, sometimes movies, sometimes just someone I've seen on the street!
How does audiobook narration differ from other types of voiceover work you've done?
It's completely different, and more related to acting than any other forms of Voiceover. I'm not trying to sell anything for instance, I'm trying to "become" the character. The difference is, you have to learn to work with the mic and your voice for an intimate yet passionate experience for the listener.
Do you read reviews for your audiobooks?
I'm embarrassed to say I do a little bit. Sometimes a good review will clue you into something you need to work on to become better!
What do you say to those who view listening to audiobooks as "cheating" or as inferior to "real reading"?
It's just another way to experience the art of the writer. You are still doing that in an audiobook! It's also VERY helpful for people with attention, hearing or other types of disorders. I personally like to do a bit of both, for the same book. JUST READING actually puts me to sleep!
What bits of advice would you give to aspiring audiobook narrators?
Research, research research, listen, listen, listen…and then get a good coach!
What's next for you?
I have a serial killer book coming out by AK Alexander and then I'm SUPER excited to be starting a series by Ashley Quinn, beginning with A BEAUTIFUL END with Audiobook Empire!
Bonus question: Any funny anecdotes from inside the recording studio?
My biggest hurdle is keeping my kitten from hiding and ruining my recording or literally climbing the walls!

Ever picked up a book because you were drawn to the cover? It is the reason I choose to listen to this one. The combination of colors, presentation and focal point intrigued me. I mean it screamed fall to me ? and that is one of my favorite seasons.
This was my first time reading a book by Jenny Knipfer (and listening to a book read by Jenn Lee!) I have several others on my TBR that came out this last year, but college… Sigh.
Anyway, I enjoyed Jenny Knipfer's style of writing, and I liked how she gave voice to the thoughts many women go through after newly being married and I associated with several of the scenarios Beryl went through and thought they were very realistic which inspired fond memories for me.
Jenny Knipfer dealt out a wide range of emotions that were humorous as well as dealing with some tough issues like abandonment, losing a baby, and conflicting emotions. She did it all in a way that sounded natural and easy to follow.
Jenn Lee did a respectable job reading the book, I thought her voice inflections between characters were good, and I liked the natural pace she read at; and best of all, I could not wait to get in my car each day and listen to what she read next.
A coming-of-age type story set in a historical background with an interesting storyline, relatable characters, and embodiment of the saying "absence makes the heart grow fonder." 3.5 stars rounded up to 4.
Two things about the book that I thought could be better; One, there did not seem to be anything learned by the characters, neither Beryl nor Edward had a great character arc. Two, I wished that we had learned more about Edward, it felt like we did not get to know him, and I thought he had so much potential. Overall, though, it was a sweet story that I enjoyed listening to and I am looking forward to listening to more books by Jennifer Knipfer & Jenn Lee.
*There is an almost closed/open door love scene between a married couple.
**I volunteered to read this book in return for my honest feedback. The thoughts and opinions expressed within are my own. I received this audiobook as part of my participation in a blog tour with Audiobookworm Promotions. The tour is being sponsored by Audiobook Empire. The gifting of this audiobook did not affect my opinion of it.

Plugging you into the audio community since 2016.
Sign up as a tour host here.