I have had the pleasure of reading every book that Author Colleen Coble has ever published. The way she crafts her books is nothing short of amazing, she has a way of building landscapes that you can't help but feel like you are right there in the town she places you.
Her best friend and critique partner Denise Hunter is another one of my favorite authors but in an entirely different genre, however, it still amazes me how seemingly two polar opposite type genre writers (at least nowadays since Colleen Coble doesn't write primarily romance anymore) can be such great friends. I found it to be very encouraging and uplifting to watch. Colleen Coble has written over seventy-five books in different genres ranging from more recent suspense/thriller books to historical fiction, westerns, and contemporary fiction.
When putting this list together it was interesting to see how many cover changes and title changes her books have had over the years. I tried to let you know when titles had been changed in this list but I am only human and I could have missed some, if you know of a different title change let me know and I will update the list. I've also linked an editable canva template list of all her books that you can print off for your record keeping 🙂
A little about Colleen Coble
Best-selling USA Today romantic suspense author Colleen Coble's novels have won or finaled in awards ranging from the Best Books of Indiana, the ACFW Carol Award, the Romance Writers of America RITA, the Holt Medallion, the Daphne du Maurier, National Readers' Choice, and the Booksellers Best. She has over 5 million books in print and her books have been on the USAToday bestseller list, the ECPA, CBA, Publishers Weekly, and Amazon bestseller lists. She writes romantic mysteries because she loves to see justice prevail. Colleen is CEO of American Christian Fiction Writers. She lives with her husband Dave in Indiana. Visit her website at www.colleencoble.com.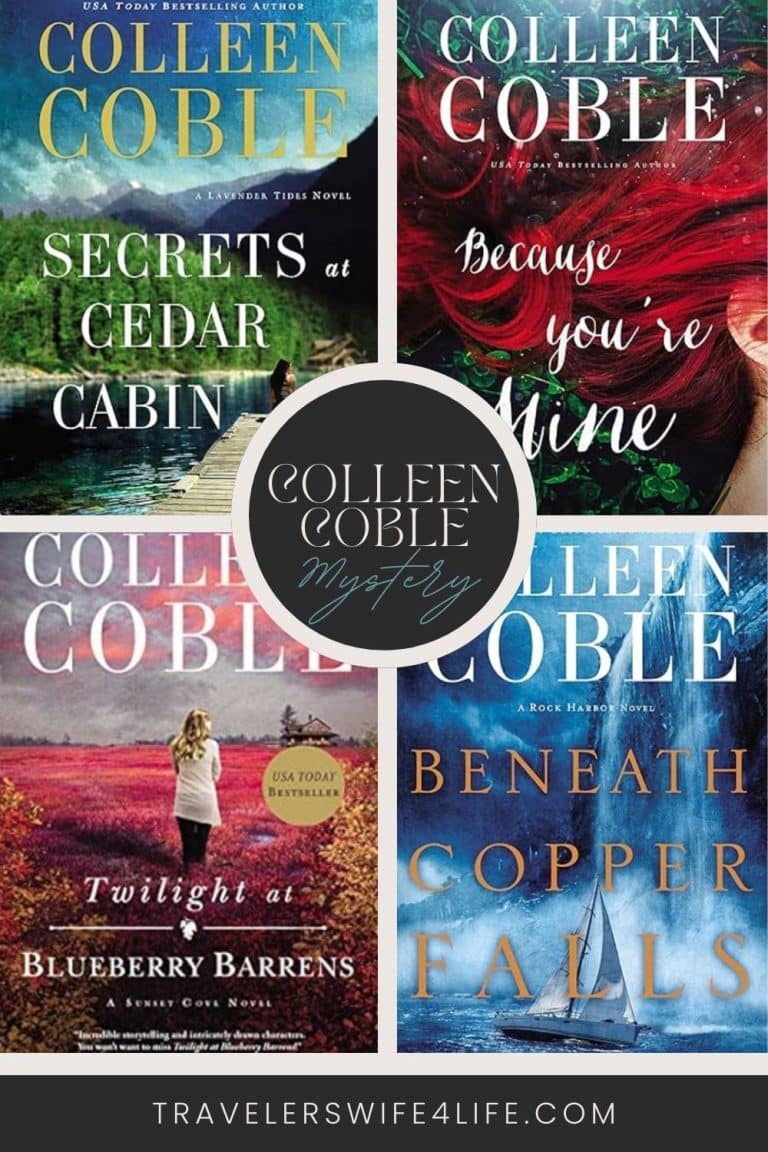 Colleen Cobles Earlier Works
*Affiliate links are used in this post. See my privacy policy and disclosures page for more information.
​Her Books are Listed by series from Oldest to Newest.
This first group is of her older books, most are only available digitally or in "collections" now. I did link them out to Amazon where I could find them, however, since most aren't in print anymore I'd recommend checking out local used bookstores as the prices on Amazon for some of these are on the high side.
Where Leads the Heart, 1998
Set Sail My Heart, 1999
Belinda, 1999
The Heart Answers, 1999
Plains of Promise, 1999
Storm Warning, 2000
From Russia With Love, 2000
To Love a Stranger, 2000
Cattle Baron's Bride, 2001
Love Ahoy, 2001
"Wedding Quilt Bride", 2001, Heirloom Brides
Heart Full of Love, 2001, Home for Christmas
Wyoming, 2002- A collection of her first four novels (Where Leads the Heart, Plains of Promise, The Heart Answers, To Love a Stranger)
"Love, Suite Love," 2002, Aloha
Red River Bride, 2002
Maggie's Mistake, 2002
"A Match Made in Heaven," 2003, Blind Dates
"Love's Far Country," 2003, Gold Rush Christmas
Books that were originally written under the pen name Colleen Rhoads from Steeple Hill Suspense (Harlequin). They have been republished again under Colleen Coble.
Windigo Twilight, Feburary 2005
Shadow Bones, June 2005
Stormcatcher, September 2005
Rock Harbor Series
Set in the untamed beauty of Michigan's Upper Peninsula, the Rock Harbor novels draw readers into the life and adventures of a canine search-and-rescue team as it unravels the secrets of an enchanting wilderness.
This series has had cover changes so you may not recognize them, but they are stunning new covers!
Without a Trace, October 2003
Beyond a Doubt, April 2004
Into the Deep, October 2004
Haven of Swans (formerly titled Abomination) August 2007
Cry in the Night, Feburary 2009
Silent Night, a Rock Harbor novella November 2012 – Part of a Two Book compilation along with Holy Night a Novella in the Aloha Reef Series.
Beneath Copper Falls, July 2017
Aloha Reef Series
​It feels like paradise, but deadly secrets lie beneath the waves off the coast of Kauai.
Distant Echoes, April 2005
Black Sands, October 2005
Dangerous Depths, April 2006
Midnight Sea, January 2007
Holy Night, (novella) November 2013
The Lonestar Series
​In the quiet safety of the Bluebird Ranch, old promises resurface and unexpected love brings new hope.
Lonestar Sanctuary, June 2008
Lonestar Secrets, June 2009
Lonestar Homecoming, March 2010
Lonestar Angel, November 2011
All is Calm, (novella) October 2014 – Part of a Compilation with All is Bright, a novella in the Hope Beach Series.
Journey of the Heart series (reissue as a serial collection of Where Leads the Heart and Plains of Promise)
A Heart's Disguise, March 2015
A Heart's Obsession, April 2015
A Heart's Danger, May 2015
A Heart's Betrayal, June 2015
A Heart's Promise, July 2015
A Heart's Home, August 2015
This series is also available in a collection.
The Mercy Falls Series
Enter the World of Turn-of-the-Century Coastal California and explore lighthouses!
The Lightkeeper's Daughter, January 2010
The Lightkeeper's Bride, September 2010
The Lightkeeper's Ball, October 2011
The Smitten series, written with Kristin Billerbeck, Diann Hunt, and Denise Hunter
"Birthday Wishes" a novella in Smitten, December 2011
"Love Between the Lines" a novella in Secretly Smitten, December 2012
"Love by the Book" a novella in the Smitten Book Club, December 2013
Under Texas Stars
​"Coble is a great writer, she knows what readers want and she does not disappoint."—Romantic Times
Blue Moon Promise, February 2012
Safe in His Arms, February 2013
The Hope Beach Series
​A USA TODAY bestseller! Inheriting a beautiful old hotel on the Outer Banks was a dream come true for Libby. . . until her newfound siblings accuse her of stealing their birthright, her friend is kidnapped, and she's blamed for the crime.
Tidewater Inn, July 2012
Rosemary Cottage, July 2013
Seagrass Pier, July 2014
All is Bright, a Hope Beach Christmas novella, Sept 2015 – Part of a Compliation with All is Calm, a novella from the Lonestar Series.
Sunset Cove
Set on the beautiful coast of Maine, the Sunset Cove Series brings together suspense, romance, and the hope that one-day new life will come again. This series of coastal romantic suspense novels are some of my favorite stories from Colleen Coble.
The Inn at Ocean's Edge, April 2015
Mermaid Moon, January 2016
Twilight at Blueberry Barrens, September 2016
The Lavender Tides Series
"Prepare to stay up all night with Colleen Coble. Coble's beautiful, emotional prose coupled with her keen sense of pacing, escalating danger, and very real characters place her firmly at the top of the suspense genre. I could not put this book down." —Allison Brennan, New York Times bestselling author of Shattered
The View From Rainshadow Bay, January 2018
Leaving Lavender Tides, a novella, March 2018
The House at Saltwater Point, July 2018
Secrets at Cedar Cabin, January 2019
The Pelican Harbor series
"Colleen Coble always raises the notch on romantic suspense, and One Little Lie is my favorite yet! The story took me on a wild and wonderful ride." —Diann Mills, bestselling author
One Little Lie, March 2020
Two Reasons to Run, Sept 2020
Three Missing Days, July 2021
An Annie Pederson Novels
Even though secrets lie off the coast of Rock Harbor, the truth will set Annie Pederson free—if it doesn't kill her first. Return to the beloved town of Rock Harbor in the first installment of a new series by bestselling suspense author Colleen Coble.
Edge of Dusk, July 2022 – Read My Review of Edge of Dusk
Dark of Night, January 2023
Break of Day, July 2023 – the final installment of the Annie Pederson trilogy was EPIC!
YA/Middle Grade Rock Harbor Books:
Rock Harbor Search and Rescue, April 2013 – Written with Author Robin Caroll
Rock Harbor Lost and Found, October 2013 – Written with Author Robin Caroll
Children's Rock Harbor Book
The Blessings Jar, July 2013 – A Board Book
Coleen Coble's Stand Alone Books
​Alaska Twilight, March 2006
Fire Dancer, October 2006
Where Shadows Meet (formerly Anathema), May 2008
Butterfly Palace, January 2014 – Bluebonnet Bride a Novella, April 2014
Because You're Mine, January 2017
Freedom's Light, September 2018
Strands of Truth, September 2019 – See my Book Review of Strands of Truth
A Stranger's Game, January 2022
Fragile Designs, January 2024
My first memory of reading Colleen Coble's stories is of her romantic-suspense series Aloha Reef. It is what started my love of all things suspense, and true crime. Her new books are auto-buys for me and I always look forward to seeing where she will take us next. I even had the pleasure of meeting her at an ACFW conference where she talked about her process of writing and where she started with new book ideas. It was fascinating, and only cemented my love of her books.

She was also very upbeat and humorous, especially when she and Denise Hunter started bantering back and forth. Collen Coble took the time to talk to each participant in her workshop and answer their questions, she made us all feel like we were valued and we left having the feeling of knowing her a bit better.