About the book:
Title: Dusk's Darkest Shores
Author: Carolyn Miller
Publisher: Kregel Publications 
Categories: Historical, Regency, Romance, Clean Fiction
Synopsis:
How can a meek wallflower help a returning war hero whose dreams are plunged into darkness?
Mary Bloomfield has no illusions. Her chances for matrimony have long since passed her by. Still, her circumstances are pleasant enough, especially now that she has found purpose in assisting her father with his medical practice in England's beautiful Lake District. Even without love, it's a peaceful life.
That is until Adam Edgerton returns to the sleepy district. This decorated war hero did not arrive home to acclaim and rest, but to a new battle against the repercussions of an insidious disease. Mary's caring nature cannot stand to see someone suffer. But how can she help this man see any brightness in his future when he's plunged into melancholic darkness, his dreams laid waste by his condition?
Adam wants no charity, but he's also no coward. If this gentle woman can work hard, how can he do less? Together they struggle to find a way forward for him. Frustration and antipathy slowly develop into friendship and esteem. Then a summer storm atop a mountain peak leads to scandal. Both Mary and Adam must search the depths of their closed hearts for answers if they hope to find any future path with happiness at its end.
Best-selling author Carolyn Miller is back with a fresh series that will not only thrill readers eager for more of her work. But bring in new fans looking for beautiful writing, fascinating research, deftly woven love stories, and real faith lived out in the Regency period.
About the Series:
While most stories set in Regency England focus on the rich, the young, and the beautiful. Award-winning author Carolyn Miller decided she wanted to give readers something different for a change.
Her new Regency Wallflowers series follows the commoners, away from the hustle and bustle of 1810s London, out in the Lake District of England. She tells the stories of women who are slightly older and have few prospects for marriage, women who might be considered "wallflowers."
My Thoughts on Dusk's Darkest Shores
What a start to a new series!
Have you ever read a book that just makes you want to be more selfless?
Well, that's how Dusk's Darkest Shores made me feel. Mary was what I would consider a leader in selflessness; don't get me wrong, she has her faults. But overall, she is on the surface, perfect. Yet, in the midst of it all Carolyn Miller gives voice to the fears many of us have, and she turns them in to relevant life lessons. Plus, I truly wish I were a good with herbal remedies as Mary!
Did you catch on that I did not say anything about Adam the male lead character? Well, that because I cannot say much without giving away some fabulous information. I can tell you that I loved his spirit, endurance, and his Faith. A very admirable character.
The overall storyline was interesting, and it kept my attention, there were a few parts that seems slow to me; however, I really enjoyed the themes Carolyn Miller interwove into the story and I definitely will be reading the rest of the series.
*I volunteered to read this book in return for my honest feedback. The thoughts and opinions expressed within are my own.
"Heavenly Father, she whispered, I know I am not much but I do believe You are real, and that You love people, and that You want to make a tangible difference to people's lives today. Use me for Your purpose I pray."
Also, you should check out Audra's cool Pinterest board of quotes!
About the Author of Dusk's Darkest Shores
Carolyn Miller is an inspirational romance author who lives in the beautiful Southern Highlands of New South Wales, Australia, with her husband and four children.
A longtime lover of romance, especially that of Jane Austen and Georgette Heyer's Regency era. Carolyn holds a BA in English literature and loves drawing readers into fictional worlds that show the truth of God's grace in our lives. She enjoys music, films, gardens, art, travel, and food.
Miller's novels have won a number of RWA and ACFW contests. She is a member of American Christian Fiction Writers and Australasian Christian Writers. 
Learn more about Carolyn at www.carolynmillerauthor.com, or find her on Facebook (Carolyn Miller Author), Instagram (@CarolynMillerAuthor), and Twitter (@CarolynMAuthor).
Enter a Giveaway!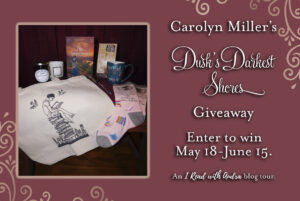 Check out more Bookish Happenings Below: