About The Book
Christmas in Idaho by Ray Downing, and narrated by Eric Conger
A Christmas-themed novelette destined to inspire holiday excitement in all readers.
Enjoy the sights, sounds, and wonder of Christmas alongside Idaho, a snowman who is experiencing Christmas for the first time….. just as he discovers that time is running out.
This fictional allegory is interwoven with the New Testament account of Jesus' birth, death and resurrection. Scientific and philosophical themes add an extra level of interest for the sophisticated reader.
Created by Emmy award winning 3D artist Ray Downing, this book is lavishly illustrated and gilded, with a faux leather cover and embossed panel on the cover — perfect for gift giving.
Open this book… and find Christmas.
*Purchase: Amazon
About the Author
Ray Downing is an Emmy winner 3D computer graphics illustrator and animator.
In a career that spans three decades, Ray has produced artwork for the scientific, medical and broadcast industries.
Three History Channel specials featured Ray's animations: "Stealing Lincoln's Body", "The Real Face of Jesus?" and "Jesus: the Lost 40 Days".
In his latest project, Ray creates "Christmas in Idaho", a story for adults that the whole family will enjoy.
In this book, Ray's interest in art, science and religion come together to create an emotionally charged and lavishly illustrated Christmas story — a journey of discovery which questions our understanding of time and explores the possibility of immortality
https://www.christmasinidaho.com/
About the Narrator Eric Conger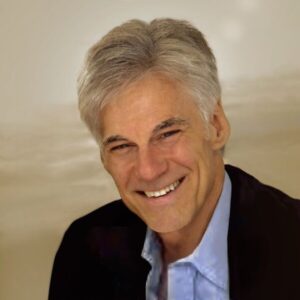 A Golden Earphones Award winner, Eric has collaborated with Ray on many projects over two decades.
Eric's dramatic rendition of Christmas in Idaho transforms the written word and brings the story to life.
More than just a narration, Eric delivers an emotionally filled performance, backed with music and sound effects, which makes the listener feel like a participant in the story.
My Thoughts
Christmas in Idaho by Ray Downing.
When I picked took this book out of the box, I was shocked.
It is GORGEOUS. Gilded edges. A fancy ribbon bookmark. Thick glossy pages. Plus, an AUDIOBOOK too?! I could not believe how much effort the author put into this beautiful book. It definitely shows that Ray Downing has put a LOT of time into making each detail of this book shine (quite literally!).
The story has somewhat of a frosty the snowman storyline, with a bit of the Christmas Carol thrown in, and elements of the redemption story as well. The main character Idaho, is a cute walking, talking, snowman who comes to life one day (you knew I would go there right?). The two kids who build him spark the thought of what the meaning of the word Christmas truly means. And it was an overall interesting adventure to figure out that meaning.
Concerns
A couple of things that unfortunately for me did not mesh. The Scientology/Catholicism references (my fault for not researching more on the book before agreeing to read it), and the descriptions of the angels (being female, which biblically if you take the Bible as being infallible, which I do, is incorrect). Along with a few of the graphics seeming to be a distinctive style than others.
Overall, if you read this book as a purely fictional story, and I stress that, it is good. Albeit at times confusing. And I genuinely enjoyed the audio narrator's voice, very soothing.
Having stated my concerns, I give this book a 3-star rating in terms of content. And a 5-star rating in terms of appearance.
Remember this may not have been for me, but if you are of that religious persuasion, it may be for you as it is beautifully designed with several of Ray Downing's designs in it if I had to guess.
*I was given this book in return for my honest feedback. The thoughts and opinions expressed within are my own and I am in NO WAY obligated to leave a positive review.