Pennies From Heaven
Book Spotlight, Author Interview and a Giveaway!
---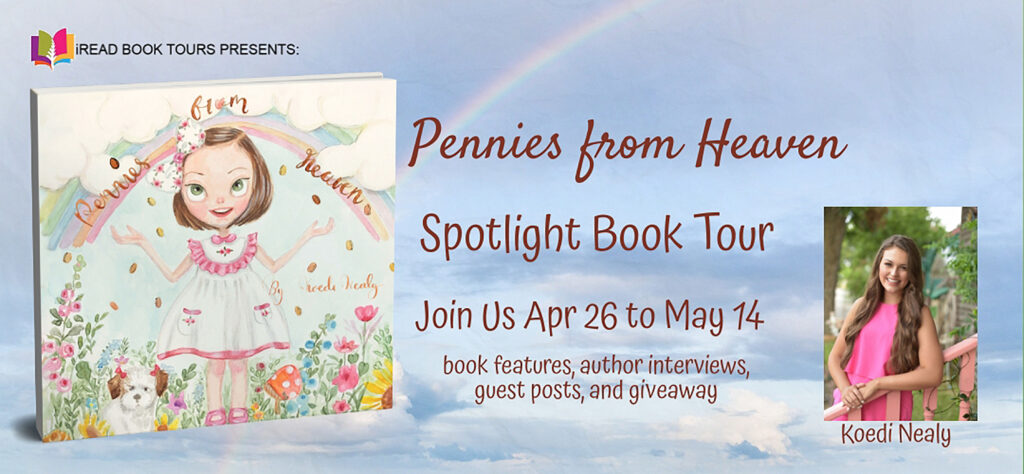 About Pennies From Heaven
Based on the true-life events that led Koedi Nealy to start changing lives one penny at a time at the age of seven, "Pennies from Heaven" teaches children that they are never too young to do great things for God.Koedi's journey culminated in forming a non-profit that currently serves the homeless population in Houston, Texas, helping the most overlooked and undervalued people in the community.
You can Purchase the Book Via:
Amazon
---
Q: Because of your experience what have you learned about the homeless that most people may not know?
A: Many homeless people are often overlooked due to prejudice. I've learned that the common person has preconceived ideas of why people "choose" to be homeless and that is – more times than not- a false assumption.  I am working on writing more stories to share the "real people" I have met and their journeys of struggle.
For example, most people don't realize the most basic need a person on the street needs in order to help themselves is simply an address.  You can't get a job without an address. You need an address for a driver's license, to receive a paycheck, benefits, a W-9 form, even a regular social security check. 
I've begun a campaign to raise one million dollars to secure a home in a transformational community that consolidates the needs of Houston's homeless communities in one area.  It's a pretty lofty goal, but one that we are already on our way to meeting. 
Q: What's the most courageous thing you've ever done?
A: I have always been nervous to talk in front of people. But when I was in kindergarten, I summoned the courage (through tears) to audition for the talent show.
Q: Do you have any hobbies?
A: Spending time with my friends, watching musicals, shopping, and photography.
Q: Name a quirky thing about you:
A. I sometimes make a snorting sound when I am laughing really hard and I HATE my nose being touched!
Q: If there is one thing you want readers to remember about you, what would it be?
I want to be remembered as the girl who reminds others of their value and encourages them to make a difference in the world.
---
About the Author Koedi Nealy
A native of Houston, Texas, Koedi Nealy is a senior at Cypress Christian School. She received her local minister's license at the age of sixteen and is an active member of her school and community, holding leadership roles in various sports, drama, praise and worship groups, Thespian Society, and National Honor Society. She is the founder and president of Graced Ministry.
You can connect with the Koedi Nealy:  Website  ~ Facebook ~ Instagram
Giveaway!
Enter to win a signed copy of Koedi Nealy's PENNIES FROM HEAVEN! (one winner/USA only)
Koedi Nealy's PENNIES FROM HEAVEN Book Tour Giveaway