Today I'm delighted to have Romantic Suspense Author Jerusha Agen back on my blog for an Author Interview! I love how Jerusha Agen weaves in K-9 Handler's (cue the cute bomb-sniffing dog's!), lethal consequences, fast-paced suspense, and romance all in one adrenaline rush of a book. I read and reviewed book one of her Guardians Unleashed series, Hidden Danger, and I can't wait to dive into the next book, Cover Danger followed by Unseen Danger later this month!
A bit about Jerusha Agen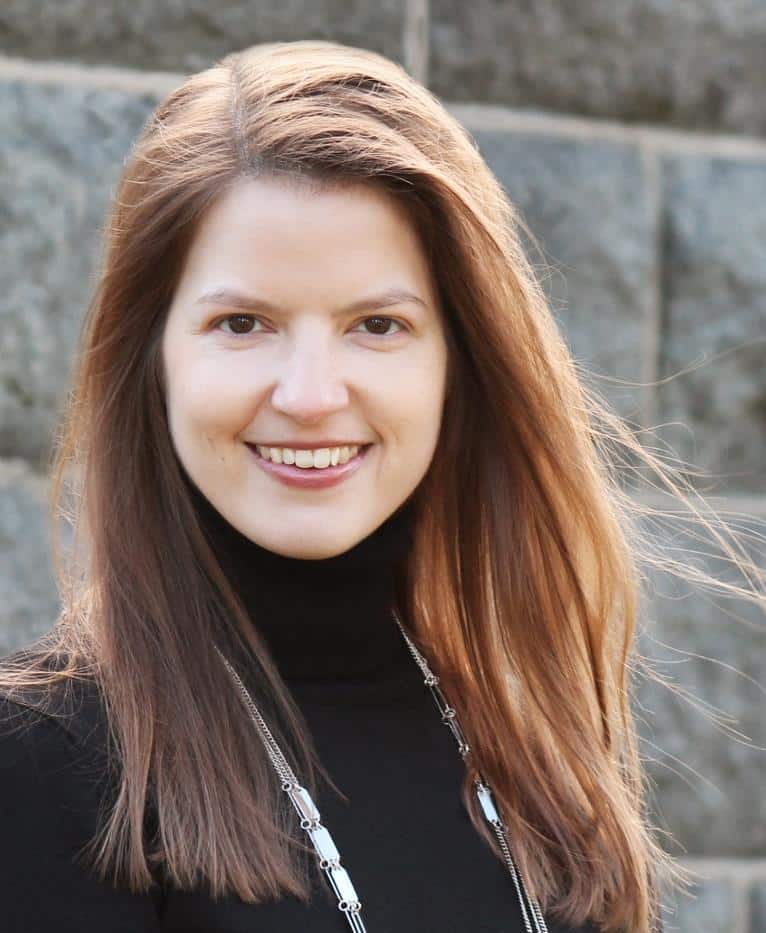 Jerusha Agen imagines danger around every corner but knows God is there, too. So naturally, she writes romantic suspense infused with the hope of salvation in Jesus Christ. Jerusha loves to hang out with her big furry dogs and little furry cats, often while reading or watching movies. Find more of Jerusha's thrilling, fear-fighting stories at JerushaAgen.com or on social media.
More from Jerusha Agen:
Covert Danger was especially fun and challenging to write because it was the first time I've written a book with a heroine who is two people. At least, that's what it seems like when you start to read Covert Danger.
Amalia Pérez is a security specialist at the Phoenix K-9 Security and Detection Agency in the Twin Cities of Minnesota. She has two K-9 partners—Raksa, a German shepherd protection and search and rescue K-9, and Gaston, a Newfoundland water rescue dog.
Amalia doesn't talk much about her past, even to her fellow co-workers at the Phoenix K-9 Agency. But her past comes crashing into her present in Covert Danger.
First, Michael Barrett shows up as a witness Amalia is assigned to protect. Trouble is, Michael is her former childhood best friend. And he knows she used to be someone else.
When an assassin arrives on the scene, gunning for Michael, another piece of Amalia's secret past threatens to hijack her present. Because he's an assassin that eluded her once before, on her last mission as a CIA operative.
So what is an author to do with a heroine who has two identities? A heroine who is determined her old self is gone forever?
Well, this author dug into the truth.
Thanks to years of running and years of deception before that, Amalia is buried in lies. As Michael points out to her, she doesn't even know what the truth is anymore.
Sound familiar? Our culture is flooded with lies right now. Lies that grow more and more sinister as people abandon reason completely.
Rampant relativism—the "it's true for me" mentality—has morphed into outright rejection of all real truth. Worse, it's also turned into drastic efforts to pressure everyone to identify right as wrong and wrong as right.
Calling good evil and evil good is where we'll all end up if we abandon the truth. Which is one reason why Amalia's story—a search for truth and right amid deception and evil—is so important.
God taught me more about truth and deception as I took on the challenge of writing Amalia's and Michael's story. And He used this story to make my foundation in the truth stronger, strong enough to withstand the onslaught from our culture and from within.
Even as Covert Danger takes you on a thrilling ride of action and romance, I hope this story helps you find and hold onto the truth like never before.
An Author Interview with Jerusha Agen
What is your favorite genre to read? What is your favorite genre to write? And why are they your favorites?
In general, my favorite genre to read is the same as my favorite to write—Christian romantic suspense. The blend of excitement, danger, and romance form the most engaging type of story for me.
I've found, though, that I'm a bit of a mood reader. I tend to go through long phases where I feel more in the mood for something lighter and escapist, and then I turn to historical romance.
When I'm drafting a novel, I also prefer to read anything other than romantic suspense, since I don't want to have my own creative process confused by reading in the same genre.
Once story ideas take root, how long does it take you to write it down?
I tend to keep ideas in my head for a very long time. That can be risky, since there's a chance I might forget about it. But usually if an idea is a good one, it will persistently stay in my mind for years until I eventually decide to flesh it out and write it as a story.
What are your hobbies other than writing?
I enjoy watching movies so much, it's probably my greatest hobby. When I have time, I also like to cross-country ski, paint, and bake delicious desserts (so I can enjoy the fruits of my labor).
Do you have a genre that you would never write? (In the Christian genre sphere i.e. speculative, historical, contemporary, etc.)
I don't think I would ever write fantasy or science fiction. While I'm a big fan of J. R. R. Tolkein's The Lord of the Rings and the original Star Wars film trilogy, that's about as far as I can venture into the speculative genres.
What is one thing in your life that you would say has had the greatest impact on your writing? Or in your life in general?
My mom definitely had the greatest impact on my writing because she introduced me to stories and reading before I could even talk. She made sure stories were part of my life and my siblings' lives from day one, and we all ended up loving to read as a result. For me, this constant exposure to stories and the words that formed them fanned into a flame the love of story that God had embedded into my heart and mind.
Thanks to the early and continual engagement with stories throughout my youth, I naturally knew how to craft and tell a story well before I learned the technical rules and guidelines for how to do so. I'm grateful to my mom for laying the early foundation and love of stories that has served me so well as a novelist!
Thank you so much for letting me interview you Jerusha Agen!
Book: Covert Danger
Author: Jerusha Agen
Genre: Christian Romantic Suspense, Contemporary Fiction, Explosive Thriller
Release Date: September 22, 2022
A K-9 protection team. An assassin. Only one can survive.
An assassin is on the loose in the Twin Cities, aiming to kill FBI witnesses the Phoenix K-9 Security and Detection Agency is hired to protect. Rogue CIA agent Amalia Pérez and her protection K-9 must get the edge on this deadly opponent before he kills her childhood best friend—the only man who knows her true identity.
Investigative journalist Michael Barrett can't believe his eyes when the woman he's spent years searching for walks back into his life. But he soon fears the woman he loved is lost forever beneath the secrets Amalia wears like armor.
As the assassin closes in, Amalia will risk anything to keep Michael safe—anything except believing in the God he trusts. When the layers of deception become as dangerous as bullets, can Amalia and Michael uncover the truth in time to stop the assassin from completing his lethal mission?
Other books in the series:
Hidden Danger (Book 1)
See my Book Review of the first book in the series: Hidden Danger
The greatest threat to this K-9 team is the one they don't see coming. Cora Isaksson's guilt has shadowed her life ever since drugs ensnared her brother and he disappeared. When Bradley suddenly returns, Cora and her narcotics detection K-9 are thrust into a battle against the drug cartel that wants him back.DEA Special Agent Kent Thomson has his own personal reasons for bringing justice to the cartel. Cora and her drug-sniffing K-9 will only get in his way. Or are they assets that will enable him to right the wrongs of the past? When the cartel targets Cora, she and Kent join forces with her teammates at the Phoenix K-9 Security and Detection Agency to end the cartel before it ends her. They're prepared for danger, but when more lives than their own hang in the balance, can they trust God for the rescue that's out of their reach?
Unseen Danger (Book 3)
​This woman and her K-9 protect others. Now who will protect them?After a brutal attack, it took Nevaeh Williams six years to rebuild her life. Now a security specialist at the Phoenix K-9 Security and Detection Agency, she faces danger nearly every day. But when an old friend is targeted, her fragile stability begins to crumble. Celebrity bodyguard Branson Aaberg could lose more than his career if he fails to end the mysterious threat against his client. Soon he's more concerned with rescuing the tough but vulnerable woman who joins his security team. Nevaeh is there to protect her friend, but what if she needs protection? What if the feeling she's being watched isn't the result of her traumatized imagination? If the danger is real, Nevaeh's only hope for survival may be the God powerful enough to defeat her worst enemy—the one she doesn't see before it's too late.
Rising Danger (Prequel)
"Fast-paced, explosive thriller. I couldn't turn the pages fast enough."-Carrie Stuart Parks, award-winning, bestselling author of Relative Silence.
It's up to a K-9 handler and her canine partner to stop a bomber before it's too late. Someone's planting explosives on dams in the Twin Cities, and Bristol Bachmann and her bomb-sniffing dog must move quickly to find them before everything ends up underwater. That means relying on the dams' supervisor—an ex-boyfriend Bristol never thought she'd see again. Hopefully, Remington Jones has grown up from the rakish charmer she knew in her academy days. Because lives now depend entirely on them…It's an environmental terrorist who wants the dams gone, and his bid to set the waters free has lethal consequences. When he sees Bristol and her K-9 working to stop him, he sets his sights on them. Can they evade him in a lethal game of cat and mouse and protect the cities from devastating destruction before the clock runs out?
Giveaway!
To celebrate her tour, Jerusha Agen is giving away the grand prize package of a $25 Barnes and Noble gift card, a signed paperback of Covert Danger, a Covert Danger tote bag, notebook, and keychain, plus more swag!!
Be sure to comment on the blog stops for nine extra entries into the giveaway! Click the link below to enter.
https://promosimple.com/ps/28434/covert-danger-celebration-tour-giveaway
Check out other stops on the book tour:
Book Reviews From an Avid Reader, October 7
Debbie's Dusty Deliberations, October 8
Gina Holder, Author and Blogger, October 9 (Author Interview)
Becka Jimenez's FB, October 9
Texas Book-aholic, October 10
Locks, Hooks and Books, October 11
Artistic Nobody, October 12 (Author Interview)
Because I said so — and other adventures in Parenting, October 13
Blogging With Carol, October 14
Adventures of a Travelers Wife, October 15 (Author Interview)
Truth and Grace Homeschool Academy, October 16
Simple Harvest Reads, October 17 (Guest Review from Donna Cline)
For Him and My Family, October 18
Guild Master, October 19 (Author Interview)
Mary Hake, October 19
Happily Managing a Household of Boys, October 20