​I first read Dani Pettrey's Alaskan Courage Series when each book came out and instantly fell in love with Dani Pettrey's writing style and the way she showcased life in Alaska. She paints vivid scenes combined with inspirational romantic suspense in each series she's written so far. It made her an auto buy author for me and I love adding her books to my shelves (the covers of her books are stunning!).
A little bit about Dani Pettry
Publishers Weekly and #1 Amazon bestselling author, Dani Pettrey has sold nearly 800,000 copies of her novels to readers eagerly awaiting the next release. Dani combines the page-turning adrenaline of a thriller with the chemistry and happy-ever-after of a romance.
Her novels stand out for their "wicked pace, snappy dialogue, and likable characters" (Publishers Weekly), "gripping storyline[s]," (RT Book Reviews), and "sizzling undercurrent of romance" (USA Today).
Her Alaskan Courage, Chesapeake Valor, and Coastal Guardian series have received praise from readers and critics alike. She's been honored with multiple awards, including the Daphne du Maurier Award, two HOLT Medallions, a two-time Christy Award finalist, two National Readers' Choice Awards, the Gail Wilson Award of Excellence, and Christian Retailing's Best Award.
From her early years eagerly reading Nancy Drew mysteries, to paging through Agatha Christie novels or watching on-the-edge-of-her-seat adventure movies, Dani has always enjoyed mystery and suspense. She considers herself blessed to be able to write the kind of stories she loves–full of plot twists and peril, love, and longing for hope and redemption. Her greatest joy as an author is sharing the stories God lays on her heart. She researches murder and mayhem from her home in Maryland, where she lives with her husband.
Visit Dani Pettrey: https://www.danipettrey.com/
Dani Pettrey's Alaskan Courage Series
Shadowed (Prequel, was originally published in Sins of The Past Novella collection).
Adventure, romance, and danger collide when Ben McKenna, a young Alaskan fisherman nets the body of a Russian open water swimming competitor. Another swimmer, Libby Jennings, who'd been the dead woman's roommate years ago, is pulled into the search for answers as it grows more and more clear that something sinister is at play.
Submerged Book 1
A sabotaged plane. Two dead deep-water divers.One single clue. Bailey Craig vowed never to set foot in Yancey, Alaska, again. She has a past, and a reputation–and Yancey's a town that doesn't forget. She's returned only to bury a loved one killed in the plane crash, but then dark evidence emerges and Bailey's own expertise becomes invaluable for the case. Cole McKenna can face dangerous rescue dives. He can face the fear a murderer may be threatening his town. But facing the reality of Bailey's reappearance is a tougher challenge. She broke his heart…but doesn't seem to be the same girl who left Yancey ten years ago. And he's not the same guy she left behind. Racing against the clock and a rising body count, Bailey and Cole must move beyond the hurts of their pasts to work together until the truth of what is hidden in the depths finally surfaces.
Shattered Book 2
Piper McKenna couldn't be more thrilled that her prodigal brother, Reef, has returned to Yancey, Alaska, after five years. But her happiness is short-lived when Reef appears at her house covered in blood. A fellow snowboarder has been killed–but despite the evidence, Reef swears he's innocent. And Piper believes him. Deputy Landon Grainger loves the McKennas like family, but he's also sworn to find the truth. Piper is frustrated with his need for facts over faith, but he knows those closest to you have the power to deceive you the most. With his sheriff pushing for a quick conviction, some unexpected leads complicate the investigation, and pursuing the truth may mean risking Landon's career. With Piper waging her own search, the two head deep into Canada's rugged backcountry–and unexpected complications. Not only does their long friendship seem to be turning into something more, but this dangerous case is becoming deadlier with each step.
Stranded Book 3
When her friend vanishes from a cruise ship, reporter Darcy St. James isn't satisfied with their explanation that she simply left her job of her own accord. Something isn't lining up, and Darcy believes the only way to find the truth is to put herself in Abby's position. Within days, Darcy learns her friend wasn't the only person to disappear mysteriously. Last summer, a woman vanished under almost identical circumstances. Gage McKenna has taken a summer-long stint leading adventure excursions for the passengers of various cruise lines that dock for a few days of sightseeing. He's surprised to find Darcy working aboard one of the ships, investigating a troubling report. Something sinister is going on and the deeper they dig the more Gage fears they've only discovered the tip of the iceberg.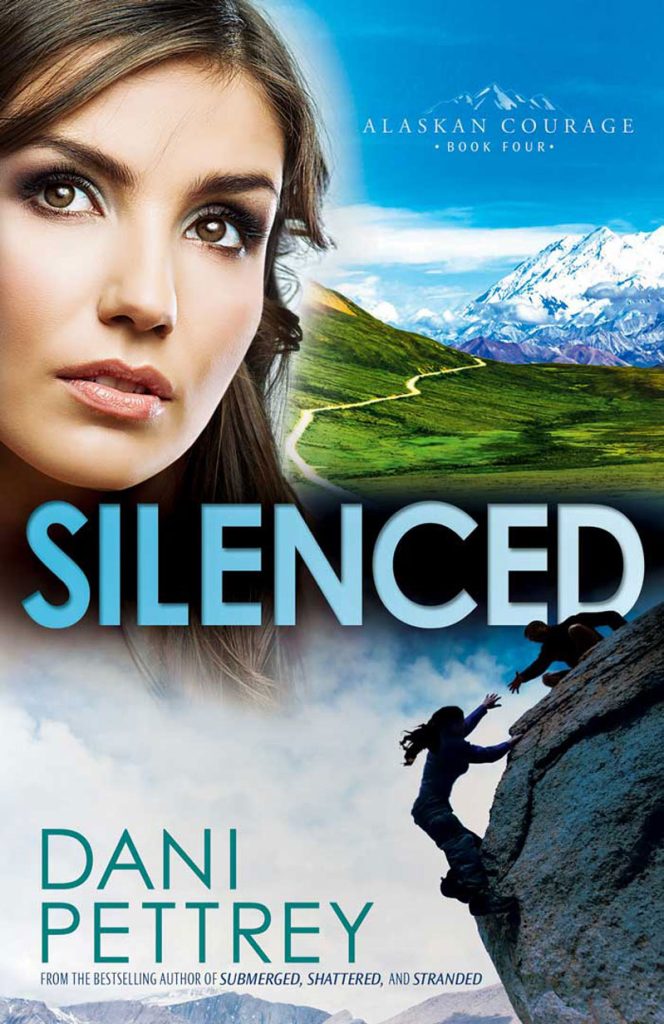 Silenced Book 4
A relaxing day of rock climbing takes a disturbing turn when Kayden McKenna's route leads her face to face with a dead climber. Is it a terrible accident or something sinister? When the case is handed to the overburdened sheriff, he turns to Jake Westin. With Jake's past now revealed, he's ready to use his talent for investigation again–but he could never prepare for where the case will take him. Kayden and Jake soon realize that the death was no accident. And worse, it seems the killer is on to them. When strange things begin happening in Yancey, Jake is terrified that once again his world may put someone he loves in danger. But the truth is far worse than he could ever imagine.
Sabotaged Book 5
Growing up, goody-two-shoes Kirra Jacobs and troublemaker Reef McKenna were always at odds. Now paired together on Yancey's search-and-rescue canine unit, they begin to put aside old arguments as they come to see each other in a different light. Then a call comes in from the Iditarod that will push them to their limits. Kirra's uncle, a musher in the race, has disappeared. Kirra and Reef quickly track the man, but what they discover is harrowing. Frank's daughter has been kidnapped. In order to save her, the man must use his knowledge as a mechanical engineer to do the kidnapper's bidding or she will die. Kirra and Reef, along with the entire McKenna family, are thrown into a race to stop a shadowy villain who is not only threatening a girl's life, but appears willing to unleash one of the largest disasters Alaska has ever seen.
The Chesapeake Valor Series
Cold Shot Book 1
In college, Griffin McCray and his four best friends had their lives planned out. Griffin and Luke Gallagher would join the Baltimore PD. Declan Gray would head to the FBI and Parker Mitchell would go on to graduate school as a crime scene analyst. But then Luke vanished before graduation and their world—and friendships—crumbled.Now Griffin is a park ranger at Gettysburg, having left life as a SWAT-team sniper when a case went bad. The job is mostly quiet—until the day he captures two relic hunters uncovering skeletal remains near Little Round Top. Griffin just wants the case to go away, but charming forensic anthropologist Finley Scott determines that the body is modern—a young social justice lawyer missing since spring—and all evidence points to the work of an expert sniper. When FBI agent Declan Gray takes over the case, past and present collide. Griffin soon realizes he'll need to confront some of the darkest days of his life if he—and those he cares about—are going to escape a downward spiral of murder that crosses continents.
Still Life Book 2
Work hits too close to home for crime scene photographer Avery Tate when her best friend disappears. The only lead is a chilling photo of her–apparently dead. As Avery, her boss Parker, and his friends dig into the case, she's forced to confront her feelings for Parker when they come face-to-face with a dangerous criminal.
Blind Spot Book 3
FBI agent Declan Grey is in the chase of his life—but isn't sure exactly what he's chasing after. Threatened by a terrorist that "the wrath is coming," Grey fears something horrible is about to be unleashed on American soil. When his investigation leads him to a closed immigrant community, he turns to Tanner Shaw to help him. She's sought justice for refugees and the hurting around the world, and if there's anyone who can help him, it's Tanner. Tanner Shaw has joined the FBI as a crisis counselor . . . meaning she now has more opportunity to butt heads with Declan. But that tension also includes a spark she can't deny, and she's pretty sure Declan feels the same. But before anything can develop between them, they discover evidence of a terror cell—and soon are in a race against the clock to stop the coming "wrath" that could cost thousands their lives.
Dead Drift Book 4
Private Investigator Kate Maxwell never stopped loving Luke Gallagher after he disappeared. Now he's back, and together they must unravel a twisting thread of secrets, lies, and betrayal while on the brink of a biological disaster that will shake America to its core. Will they and their love survive, or will Luke and Kate become the terrorist's next target?
The Coastal Guardians Series
The Killing Tide Book 1
A Corpse That Only Leads to Secrets.
An Old Flame with Danger Written all over Her.
Things Are About to Get Very Complicated.
When one Coast Guard officer is found dead and another goes missing, Coast Guard Investigative Service special agent Finn Walker faces his most dangerous crime yet. His only clues are what little evidence remains aboard the dead officer's boat, and the direction the clues point to will test Finn and the Guard to their limits. The already volatile situation is complicated even further by the arrival of Gabby Rowley–Finn's boss's sister and an investigative reporter with unrelenting questions about the crime. Now that she's returned, the tug on Finn's heart is strong, but with the risks she's taking for her next big story, he fears she might not live through it. Thrown together by the heinous crime, Finn and Gabby can't ignore the sparks or judgments flying between them. But will they be able to see past their preconceptions long enough to track down an elusive killer, or will they become his next mark?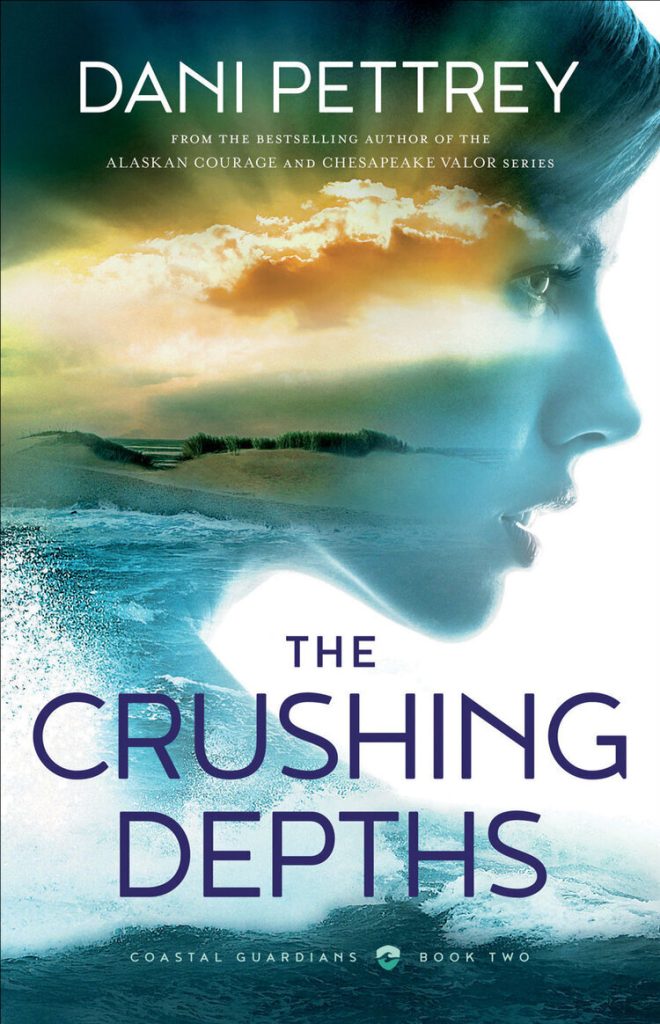 The Crushing Depths Book 2
They know the power and peril of the ocean.
But as they get closer to the deadly truth . . .
An even greater danger lurks just beneath the surface. When an accident claims the life of an oil-rig worker, Coast Guard Investigators Rissi Dawson and Mason Rogers are flown to the scene thirty-eight miles from shore. Tensions aboard the rig are high, and the death has everyone on edge. Environmental activists are threatening to do whatever it takes to stop the "plague on the environment" from continuing its work. Meanwhile, rumors are circulating on board about an ancient curse lurking in the depths below. Mounting evidence shows the death might not have been an accident. Was the man killed by one of the activists or, more frighteningly, a member of his own crew? Rissi and Mason have to sort through not only numerous suspects but also their own haunted pasts and their attraction to each other. Just as the case seems about to break open, worse news arrives: a tropical storm has turned their way. Now they're cut off from any rescue–right where the killer wants them.
The Deadly Shallows Book 3
A deadly attack.
A stolen weapon capable of immense destruction.
A painful secret that threatens to tear two hearts apart.
CGIS Agent Noah Rowley is rocked to the core when several of his valued team members come under fire on his Coast Guard base. He and his remaining team race to the scene and end the attack, but not before innocent lives are lost. Furious and grief-stricken, he vows to do whatever is needed to bring the mastermind behind the attack to justice. Stunned by the ambush, Coast Guard flight medic Brooke Kesler evacuates in a helicopter carrying the only surviving gunman. The gravely wounded man whispers mysterious information to Brooke that immediately paints a target on her back.As Brooke and Noah race to uncover answers, emotions between them ignite. Noah struggles to protect Brooke at all costs and to conceal the secret that prevents him from becoming what he longs to be–the right man for her. Everything is at stake as a horrifying truth emerges. . . .The attack wasn't the end game. It was only the beginning.
The Shifting Current (A Novella)
When Coast Guard Investigative Service Special Agent LOGAN PERRY's beloved grandfather is murdered, he gets on the first flight to his hometown of Cauldron Creek, New Mexico. His teammate, friend, and the woman he secretly loves, EMMY THORTON, joins him.
Emmy knows Logan will pursue the investigation no matter the cost. She won't let the man she loves go alone. She needs to be at his side, even if he believes she's going simply out of friendship.
What looks like a robbery gone wrong rapidly shifts, drawing Emmy and Logan into a dizzying maze where nothing is as it appears. Their only lead is a female drifter who's always one step ahead. Every clue slips through their fingers as threats against them grow deadlier. Having only each other to rely on, their love for one another deepens, but will they live long enough to admit it?
They're in the killer's sights. One wrong move and they'll become the next victims.
The Jeopardy Falls Series
One Wrong Move Book 1
Taunting riddles.
A deadly string of heists.
Two broken hearts trapped in a killer's game.
Christian O'Brady was pulled into a life of crime at a young age by his con artist parents. Now making amends for his corrupt past, he has become one of the country's foremost security experts. When a string of Southwestern art heists targets one of the galleries Christian secured, he is paired up with a gifted insurance investigator who has her own checkered past.
Andi Forester was a brilliant FBI forensic analyst until one of her colleagues destroyed her career, blaming her for mishandling evidence. She now puts those skills to work investigating insurance fraud, and this latest high-stakes case will test her gift to the limit. Drawn deep into a dangerous game with an opponent bent on revenge, Christian and Andi are in a race against the clock to catch him, but the perpetrator's game is far from finished, and one wrong move could be the death of them both.
Dani Pettrey's Novellas
Featuring Shadowed by Dani Pettrey
Dani Pettrey returns to Yancey, Alaska, introducing readers to the parents of her beloved McKenna clan.
Adventure, romance, and danger collide when a young fisherman nets the body of a open water swimming competitor and possible Russian defector. Turning to a college friend of the woman, the two begin to try and solve her death.
To read more about this book see Goodreads, Amazon, or Bookbub
In Dani Pettrey's "Deadly Isle," Tennyson Kent is trapped on the isolated island of her childhood by a storm surge, and she is shocked when the typically idyllic community turns into the hunting grounds of a murderer. Cut off from any help from the mainland, will she and first love Callen Frost be able to identify and stop a killer bent on betrayal before they become the next victims?
To read more about this book see Goodreads, Amazon, or Bookbub
Originally included in The Cost of Betrayal collection
Tennyson Kent is trapped on the isolated island of her childhood by a storm surge, and she is shocked when the typically idyllic community turns into the hunting grounds of a murderer.
Cut off from any help from the mainland, will she and first love Callen Frost be able to identify and stop a killer bent on revenge before they become the next victims?
To read more about this book see Goodreads, Amazon, or Bookbub