About the Book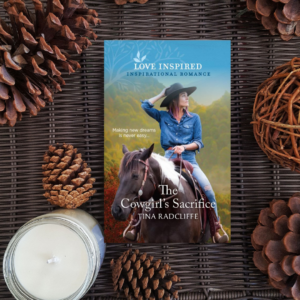 The Cowgirl's Sacrifice
(Hearts of Oklahoma #4)
By Tina Radcliffe
Inspirational Romance
Paperback & ebook, 224 Pages
July 27, 2021 by Love Inspired
This cowgirl has wandered back home…
Will she choose her past or her future?
Needing time to heal after a rodeo injury, Kate Rainbolt heads to her family ranch to accept the foreman job her brothers offered her months ago. But the position's already been filled by her ex-boyfriend, Jess McNally, and the only open job reports to him. With Jess as her temporary boss—and turning into something more—might he finally convince Kate to put down roots?
Other Books in the Series
About the Author
A freelance writer for over twenty years, Tina Radcliffe is a Romance Writers of America and American Christian Fiction Writers Honor Roll member, and a four-time ACFW Carol Award finalist. Her Harlequin novels have won the ACFW Carol Award, the Holt Medallion and appeared on the Publishers Weekly Bestseller list. Besides her novel-length fiction, and her independent publishing releases, Tina has sold over three dozen short stories to Woman's World Magazine. A US Army Veteran, a former registered nurse, and library cataloger, Tina resides in Arizona, where she writes fun, heartwarming romance and cozy mysteries. Visit her on the web at https://www.tinaradcliffe.com/
My Thoughts on The Cowgirl's Sacrifice
Have you read a Tina Radcliffe book? If not, you need to read this one. It is the 4th book in her Hearts of Oklahoma series, and I think it is my favorite so far. Every time I open a Tina Radcliffe book, I know that I am in for a good read, and a book filled with cowboys/girls, and my favorite, horses!
I have loved seeing the Rainbolt family grow and expand over time and have enjoyed reading each sibling's story. Kate though is one I have been looking forward to since the beginning, I mean HELLO RODEO CLOWN! They have such a unique and dangerous job I knew Kate was going to be an interesting character. Tina Radcliffe did a fantastic job growing her through the book with themes of forgiveness, looking forward, and making the best of what life throws at you. Plus, I liked Jess. He was perfect. He did have his faults/struggles, but for Kate, he was the perfect mix of tough and sweet.
I give The Cowgirl's Sacrifice 5 Stars, and I cannot wait until the next book comes out ?!
*I volunteered to read this book in return for my honest feedback. The thoughts and opinions expressed within are my own.
Tour Giveaway For
The Cowgirl's Sacrifice

One winner will receive a print copy of The Cowgirl's Sacrifice, a $25 Amazon gift card, Kitchen Aid Aqua Spatula, and Magnolia Table, Volume 2: A Collection of Recipes for Gathering (US and Canada)
Ends July 28, 2021