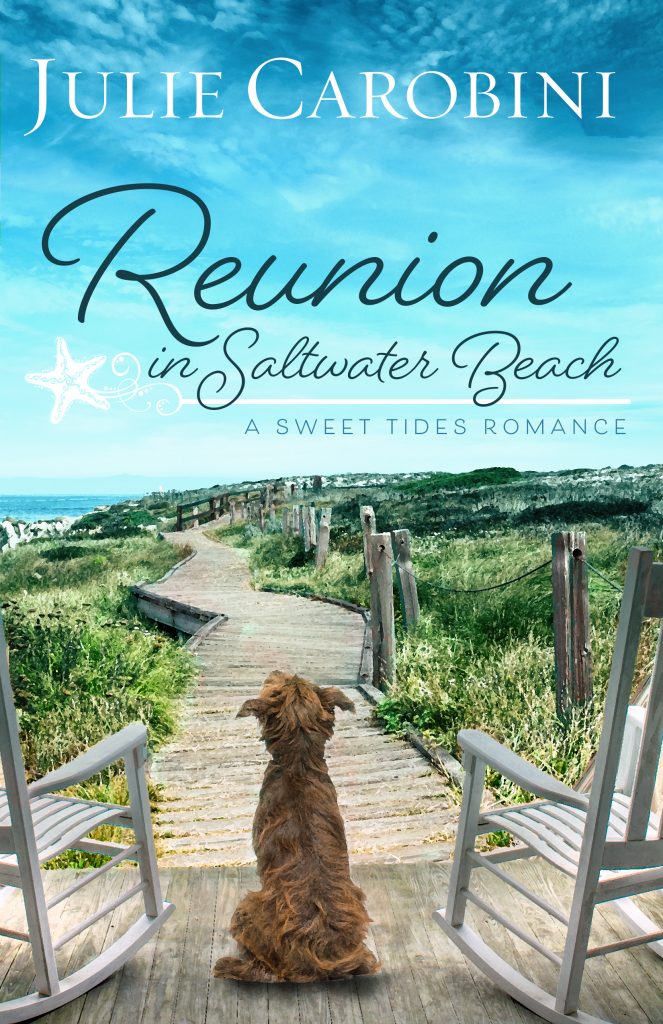 Book: Reunion in Saltwater Beach
Author: Julia Carobini
Genre: Inspirational Romance/Women's Fiction
Release date: June 22, 2022
From the author of Walking on Sea Glass … He's a big city lawyer. She's the small town beach girl who broke his heart. Any hope for a second chance expired twelve years earlier …

Jax Cooper returns to Saltwater Beach but has no plans to stay any longer than necessary. Once his mother's estate is wrapped up, he'll be on a plane back to Chicago—and hopefully to a future as the youngest law partner in his firm.

Addi Barrett never left the small beach town of Saltwater. She chose instead to dote on her ailing mother, help her father's business, and find new friendships in old places. That didn't mean she never had dreams of her own …

When a Cooper family member goes missing, a foster dog needs some lovin', and a long-hidden secret bubbles to the surface, Jax and Addi find themselves thrown together over and over again.

Can they find their way to a second chance at love? Or will past hurts rise up to make happily-ever-after impossible?
Read an excerpt from Reunion in Saltwater Beach
"My brother's here."
Addi didn't have to ask Lily which brother she was referring to. Her friend had four of them—including a set of twins—and though they would all be here today on this sad occasion of their mother's memorial, Addi had mainly been close to one of them when they were kids: Jax.
"Look," Lily said, handing her a stack of napkins to put on the table, "you don't have to engage him. I'll inform Jax that you're working for me today and you are off limits."
Addi took a quick intake of breath. "Don't say that. Our friendship was a long time ago–"
"Twelve years."
"Yes. Besides, I'm not that girl anymore—"
Lily snorted and kept moving, placing a stack of clear plastic cups on the table.
"I'm serious, Lily!" Addi forced her shoulders down, calming herself. "Shush now. I've made my life here in Saltwater Beach, for better or worse, and that's not going to change. And Jax is a grown man with a career in the city that keeps him busy—"
"Too busy, if you ask me."
"Right. Busy twenty-four-seven, from what you've said. And anyway, we haven't spoken in so many years. It wouldn't even matter if he knew that I had a little thing for him back then. That's long over now."
"I sure hope so. I love my brother, but he can be a big flirt sometimes. He's broken his share of hearts, and the last thing I need him to do is swoop in and steal my best friend right from under me."
Addi shook her head. "Lily—that's not about to happen."
Find more excerpts from Reunion in Saltwater Beach
COMING SOON!
About the Author
JULIE CAROBINI writes inspirational beach romances. She is the author of 22+ books across two names and is known for spunky heroines, charming heroes, quirky friends, and the secrets they keep. Her bestselling titles include Walking on Sea Glass, Runaway Tide, Finding Stardust, The Christmas Thief, and more. Julie has received awards for writing and editing from The National League of American Pen Women and ACFW, and she is a double finalist for the ACFW Carol Award. She lives on the California coast with her husband, Dan and their rescue pup, Dancer. Grab a free eBook here: www.juliecarobini.com/free-book