About Counterfeit Love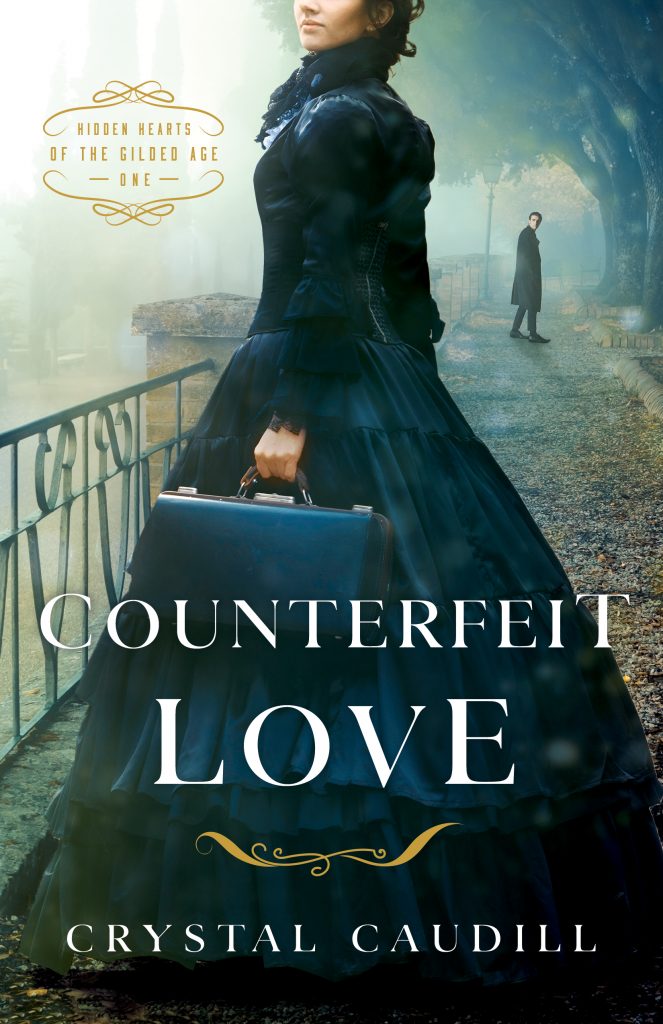 Can this undercover agent save the woman he loves—or is her heart as counterfeit as the money he's been sent to track down?
After all that Grandfather has sacrificed to raise her, Theresa Plane owes it to him to save the family name–and that means clearing their debt with creditors before she marries Edward Greystone. But when one of the creditors' threats leads her to stumble across a midnight meeting, she discovers that the money he owes isn't all Grandfather was hiding. And the secrets he kept have now trapped Theresa in a life-threatening fight for her home–and the truth.
After months of undercover work, Secret Service operative Broderick Cosgrove is finally about to uncover the identity of the leader of a notorious counterfeiting ring. That moment of triumph turns to horror, however, when he finds undeniable proof that his former fiancé is connected. Can he really believe the woman he loved is a willing participant? Protecting Theresa and proving her innocence may destroy his career–but that's better than failing her twice in one lifetime.
They must form a partnership, tentative though it is. But there's no question they're both still keeping secrets–and that lack of trust, along with the dangerous criminals out for their blood, threatens their hearts, their faith, and their very survival.
Combining rich history, danger, suspense, and romance, Crystal Caudill's debut novel launches this new historical series with a bang. Fans of Elizabeth Camden, Michelle Griep, and Joanna Davidson Politano will be thrilled to find another author to follow!
To read an excerpt of Counterfeit Love click here.
Or Read more about Counterfeit Love on Amazon
About the Author of Counterfeit Love
Crystal Caudill is the author of "dangerously good historical romance," with her work garnering awards from Romance Writers of America and ACFW. Counterfeit Love is her debut published novel.
Caudill says that reading and writing are part of her soul and have been since she first held a crayon. While she considered writing to be an escape from challenges and struggles and a way to keep her sanity, Caudill would come to recognize that God used it as a teaching tool. "The stories came through my fingertips, but they were marked with His fingerprints," she shares.
As she delved into history and crafted her own stories of hope through danger, Caudill would answer the call to pursue writing as a career after her first writer's conference. "My stories are still filled with danger, struggle, and history, but they are also permeated with the hope and love of Christ. I hope they are dangerously good. Good for the heart and for the soul."
She is a stay-at-home mom and caregiver, and when she isn't writing, Caudill can be found playing board games with her family, drinking hot tea, or reading other great books at her home outside Cincinnati, Ohio.
Find out more at crystalcaudill.com or find her on Facebook (@crystalcaudillauthor) and Instagram (@crystalcaudillauthor). You can also join fellow readers in Crystal Caudill's Reading Friends group on Facebook.
Giveaway!
a Rafflecopter giveaway
My Thoughts on Counterfeit Love
By now you probably realize I pick up most books I read based on the cover, without reading the synopsis. Counterfeit Love was no exception. I loved the moody cover, and my imagination immediately took flight on what story Crystal Caudill had written inside.
This book did not disappoint me in the slightest. I loved the history (SOO much valuable information in here!), the mystery and the hidden depths to the storyline. It kept me engaged and reading well past my bedtime.
Then come to find out that this is a debut novel! Boy, was I surprised. It was professionally researched and had a very natural flow not always found in new authors. Truly thankful I picked this one to read.
4 Stars.
*I volunteered to read this book in return for my honest opinions.
I give this book 4 Stars